Dutch MP snubs Netanyahu, refuses to shake Israeli PM's hand (VIDEO)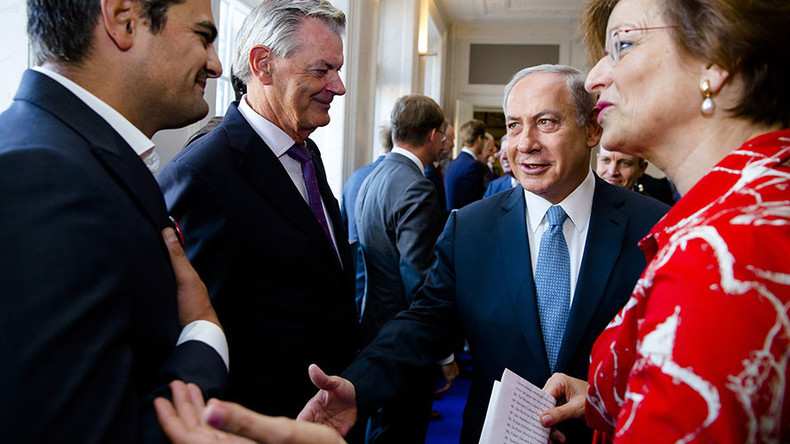 A Dutch politician has refused to shake the outstretched hand of Israeli prime minister, Benjamin Netanyahu, who is on a visit to the Netherlands.
The awkward moment captured on camera shows Tunahan Kuzu standing alongside other politicians as Netanyahu approaches, before Kuzu snubs the Israeli leader.
Netanyahu is then seen shrugging in response and moving away.
Kuzu, who is a vocal supporter of Palestinian rights, has since justified his actions on Facebook, "the red carpet is rolled out" for Netanyahu while the bloodshed of Gaza had been forgotten, in reference to Israel's war in in the Gaza Strip two years ago.
"While the streets of Gaza were reddened by blood that splashed out of the veins of children in the summer of 2014, the red carpet is rolled here," Kuzu wrote. "That deserves no handshake, but a reference to #FreePalestine."
Kuzu was also wearing a badge bearing the Palestinian flag at the time of his encounter with the Israeli leader.
The Israeli PR machine moved swiftly to contain the embarrassment, as the snub appears to have been edited out of a video shared on YouTube by the Israeli PM's office - the handshake refusal was nowhere to be seen in the clip.
But the snub was already out, and Twitter users were quick to praise Kuzu's protest action.
"What a boss," one man said, while another called handshake refusal a "sign of strength and decency."
Kuzu, a former Labour MP, launched the multicultural party Denk earlier this year, to lobby for "tolerance and equality".
READ MORE: Dutch ex-PM calls visiting Netanyahu 'war criminal' amid anti-Israeli protests in The Hague
Ahead of Netanyahu's two-day visit, former Dutch Prime Minister Dries Van Agt who was leader of the country from 1977 to 1982, said Netanyahu should be tried for war crimes at the International Criminal Court.
"The occupation and expansion… building of settlements, of occupied territory, this is according to the Rome Statute, which is… the setup… the statute on which the international criminal court is based, in so many words, a war crime," Van Agt said in an interview.
You can share this story on social media: