Super-jet-escort: Swiss fighter-jets practice interception maneuvers on Czech govt plane - media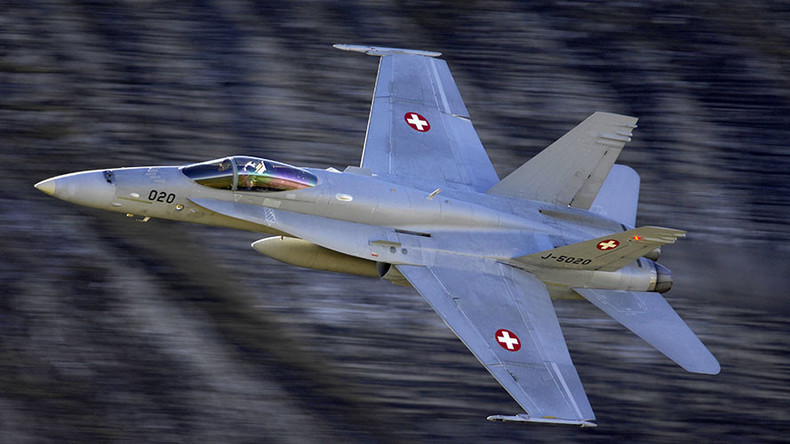 A plane carrying a Czech parliamentary delegation appears to have been escorted through Swiss airspace by no less than two supersonic fighter-jets. Local media claim the "interception" was actually a drill that the Czechs had agreed to.
A Czech parliamentary delegation was passing through Swiss airspace on its way to South America when two combat F/A-18 Hornet aircrafts joined the plane on both sides and accompanied it all the way to the border, Czech media reported on Tuesday.
Sounds like a standard military procedure for driving away an airborne intruder – and, in a way, it was. The Swiss air force was practicing a situation when a suspicious aircraft enters its air space, according to Pravo newspaper.
The maneuvers had been sanctioned by Czech authorities, the paper says. The Swiss Air Force had apparently asked the Czech Army to let them use the plane for practice, and was granted permission to do so.
A Pravo reporter on board said the fighters flew in very close proximity to the Czech aircraft, which was full of government officials. While the newspaper doesn't doubt the skills of the pilots involved, the tone of the article is that of concern and bewilderment, noting that accidents are all too common in aviation operations, especially when planes are flying in close proximity.
The Czech Republic's defense minister, Martin Stropnický, said drills involving civil aircraft are actually quite common.
"[Army] pilots are regularly practicing the procedure in case of non-standard behavior of a civil aircraft," he told the newspaper.
READ MORE: Norwegian F16 jet mistakenly shoots up control tower with officers inside

Air security in Switzerland prohibits the Swiss military from practicing on Swiss civilian aircraft, so apparently no opportunity is lost when one arises, Pravo states. However, General Jiri Sedivy, former Chief of Staff of the Czech Army, says the practice is highly questionable, especially when it concerns top officials from another state.
"If there has been any failure, if the pilot panicked and made a wrong maneuver, there would be a disaster that could have a big impact," Sedivy told Pravo.