Egyptian statue altered after complaints it symbolized sexual harassment, dominant military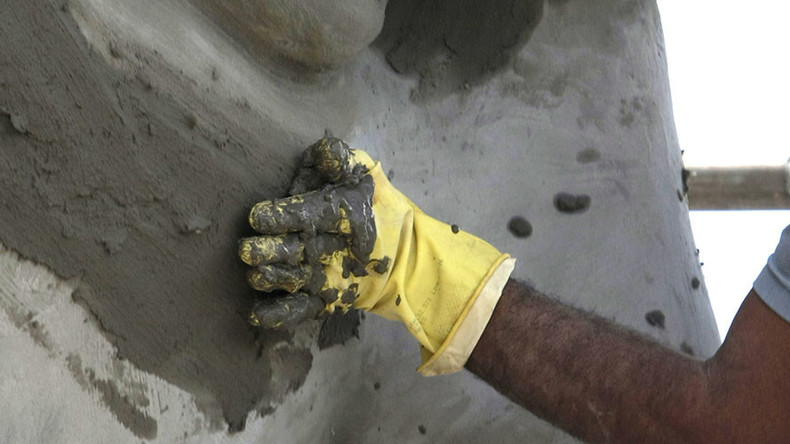 The ancient pyramids have remained untouched for thousands of years, but a provincial governor in Egypt has demanded that a newer statue undergo changes before being unveiled, following claims that it represents sexual harassment.
The 'Mother of the Martyr' statue in Sohag, Egypt, shows a peasant woman – a traditional artistic representation of Egypt – with her arms outstretched. A soldier is standing behind her, looking over her shoulder with his arms wrapped around her body.
Although the concrete sculpture has yet to be formally unveiled, residents of Sohag – known for their conservative views – have already complained about what the statue, which sits in a public square, seems to represent.
Many took to social media to express their outrage, with some saying the 8.5-meter (27.8 foot) statue portrays sexual harassment – a hot topic enveloping Egypt, after a 2013 UN Women report found that 99.3 percent of women had been sexually harassed.
Others said it represents the country's military making unwanted advances in the country, while other expressed anger that the statue has been erected near a girls' school.
Also unhappy with the sculpture was Sohag's governor, Ayman Abdel-Monaim, who has ordered an investigation into the commissioning of the statue by the local council of the town of el-Belina. He said his provincial government should have been consulted before the US$28,400 statue was commissioned.
"Sometimes, an artist's vision clashes with the culture of society," Abdel-Monaim said, as quoted by AP. "If our objective is to treat citizens with respect, then we must not do anything to offend their feelings. We all respect our army and country."
Meanwhile the sculptor, Wagih Yani, has begun making changes to the statue, removing the soldier and placing an olive branch in the hands of the woman. White doves symbolizing peace will form a crescent over her head.
However, Yani has defended his work, rejecting claims that it is inappropriate and instead insisting that the soldier represents the "spirit of the martyr" protecting Egypt.