US-trained fmr Tajik special ops officer becomes top ISIS battlefield commander in Iraq – reports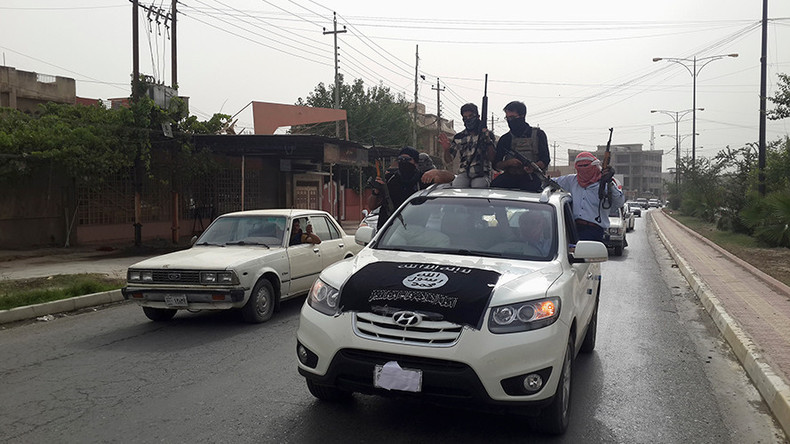 A US-trained former Special Forces colonel from Tajikistan, who defected last year, has reportedly been appointed a new top ISIS battlefield commander in Iraq. His promotion, reported by Iraqi media, coincides with the US placing a $3 million bounty on his head.
"There's information in the Islamic State (IS, formerly ISIS/ISIL) that Tajik Gulmurod Khalimov was named the new chief military commander of ISIS, after the murder of the previous leader Abu Omar al-Shishani," a source in Nineveh province, where ISIS stronghold of Mosul is located, told Iraqi Al Sumaria.
The so-called Islamic Caliphate, which stretches across Syria and Iraq, has recently been left without a top field commander in the ISIS stronghold of Mosul. Since the fall of Iraq's second largest city to ISIS forces in June 2014, the US and Iraqi governments have relentlessly attempted to recapture Mosul.
As part of their efforts to fight against ISIS, the US-led coalition has been using drone strikes to take out key ISIS figures. In March, Washington officials boasted about targeting and killing Abu Omar al-Shishani, known as the "Chechen." Those claims were initially denied by Islamic State, but later they admitted that the warlord was killed in July during fighting in the Iraqi city of Shirqat.
Speaking to Al Sumaria, the source also indirectly confirmed al-Shishani's death, noting that the terrorist organization did not announce Khalimov's new rank officially out of fear that the new commander will become a high-priority target of the US-led strikes in Iraq.
Most of the highest-ranking ISIS leaders are deployed in Syria, and only just a "few of them" in Iraq, the source told the Iraqi news channel. "Those second- and third-ranking commanders who lead the militants in [Nineveh] province, out of fear of being detected and destroyed, lead a secretive way of life and rarely appear in public," the source added.
If the report of Khalimov's appointment proves true, the Iraqi forces and its US allies will be dealing with a highly trained field commander who has previously on record revealed of receiving special training in the US.
Before defecting to ISIS last year, Khalimov was a former Tajik special operations (OMON) colonel, police commander and military sniper.
After disappearing in April 2015, he emerged a month later in a 10-minute video address where he vowed to bring jihad to Tajikistan, Russia and the US.
The 41-year-old admitted that from 2003 to 2014, he participated in five counterterrorism training courses in the United States and in Tajikistan, through the US State Department's Diplomatic Security/Anti-Terrorism Assistance program. Part of the training, according to the Tajik commander, was conducted by the private American military consultancy previously known as Blackwater. During his police career in Tajikistan, Khalimov also took several training trips to Russia.
After announcing his defection to ISIS, the father of eight has entered the ranks of the most wanted men not only in Tajikistan but globally. His second wife (a former press secretary for the Tajik customs service) who joined his jihad is now also wanted by the authorities.
At home, Khalimov is wanted on charges of treason, being part of an armed group and for illegally participating in armed conflict in other states.
After Khalimov's defection, Interpol issued a Red Notice for his capture and extradition back to Tajikistan. The former colonel was also placed on the UN and US sanctions lists.
Last week, US State Department placed a $3 million bounty on his head.
"The US Department of State's Rewards for Justice Program is offering a reward of up to $3 million for information leading to the location, arrest, and/or conviction of Gulmurod Khalimov (variant Halimov), a key leader of the terrorist group ISIL, also known in Arabic as Da'esh," the announcement reads.
Washington considers Khalimov a particular threat due to his counter-terrorism training, which included "crisis response, hostage negotiation and tactical leadership," a State Department official told Reuters on condition of anonymity.
"We consider Gulmurod Khalimov to be a threat to national security and the US Department of State due to his prior counter-terrorism experience and training," the official added.
You can share this story on social media: