5.9 quake rattles Philippines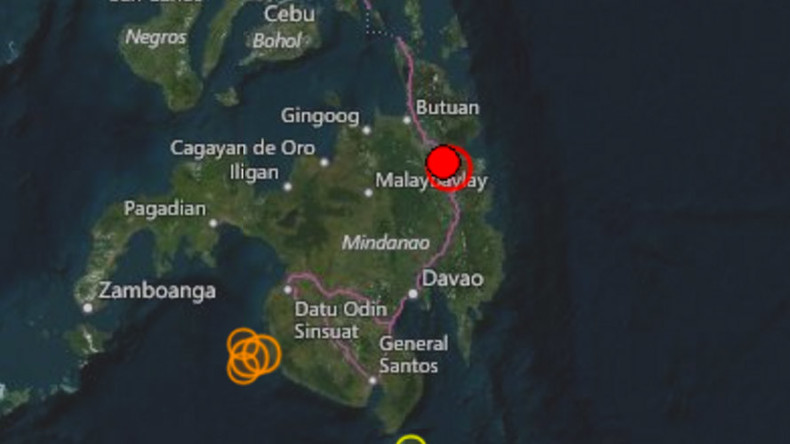 A powerful 5.9 magnitude earthquake has struck the southern Philippine island of Mindanao, according to the US Geological Survey.
Meanwhile the European-Mediterranean Seismological Centre (EMSC) measured the quake at a preliminary magnitude of 5.7.
The shallow earthquake's epicenter was measured roughly at a depth of 12.4 kilometers. There were no immediate reports of any casualties or damages, and no immediate tsunami warning has been issued.
The jolt happened at relatively close proximity to the city of Davao, which has a population of 1.2 million and lies less than 200 km away. Residents of Butuan, Tagum, Bislig, and Mati, which are spread out across the island, also reported feeling the tremors.
The Philippine Institute of Volcanology and Seismology registered also the jolts at 5.7 and said the quake had been tectonic in nature. A warning about possible aftershocks has been issued, but the institute said the quake is unlikely to result in damage.
According to the institute, the city of Butuan felt the earthquake most strongly, with shakes measuring IV (moderately strong) on the PHIVOLCS Earthquake Intensity Scale (PEIS) being registered at 10:48am local time.
The Philippine fault zone (PFZ) suffers small earthquakes on an almost daily basis along its 1,200km stretch. The fault transects the whole Philippine archipelago from northwestern Luzon to southeastern Mindanao.
The "arc-parallel, left-lateral strike slip fault" has also produced high magnitude earthquakes. In 1973, a 7.0 quake struck Ragay Gulf. In 1990 the Luzon earthquake shook the earth with a 7.7 magnitude jolt, while more recently, in 2003 the Masbate earthquake produced a quake of 6.2 on the Richter scale.
You can share this story on social media: