Dotcom to RT's Keiser: We'll expose 'trail of US government abuse' via extradition appeal livestream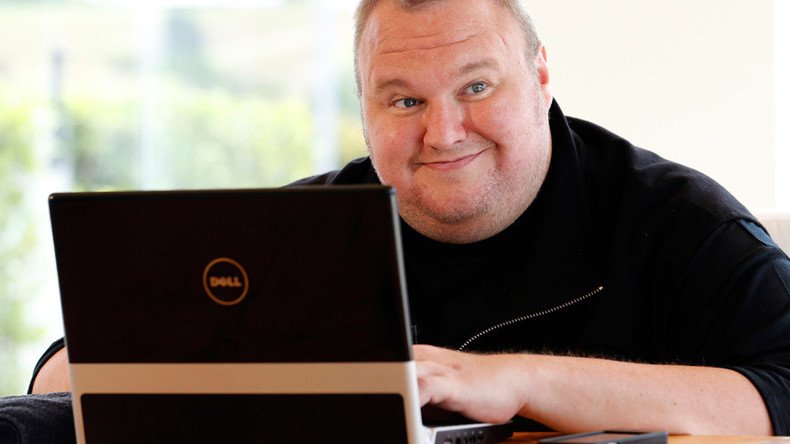 Megaupload founder, wanted by the US on copyright infringement charges, is "looking forward" to livestreaming his extradition appeal as it will unveil a whole "trail of government abuse", Kim Dotcom and his lawyer told RT.
"You're going to see a trail of government abuse…you're going to see that the United State came to New Zealand, got involved in a raid… and the court is going to hear all this," Ira Rothken, Kim Dotcom's lawyer told RT hoping the live streaming which is to begin next week will help his defendant win his case and expose government wrongdoing.
"We look forward to the entire world shining a light on this government abuse through this livestream and this is exactly how democracy should work and we're very optimistic. It shows Kim Dotcom's innovative mind and brilliance to go ahead and use the internet as a way to actually show the world what's going wrong with the government…"
Despite huge opposition from the US, a New Zealand court last week granted permission for Kim Dotcom to livestream his legal bid to fight the extradition appeal. Dotcom remains wanted by US authorities who accuse him of copyright infringement, racketeering and money laundering in connection with the seized Megaupload site.
Rothken, however, said that the US does not have any legal grounds upon which to indict Kim Dotcom, as there is the so-called Safe Harbor agreement which applies to "ISPs from any criminal liability" and laws with the New Zealand that "do not make any kind of species of alleged infringement even a crime."
Kim Dotcom who lost all his assets because of the US court orders has been indignant about the whole situation.
"The United States has indicted me with copyright infringement even though I'm not directly charged with that infringing of files…and because I use my treaty rights to fight extradition, a US court has found that I'm now a fugitive and under the fugitive disentitlement they have forfeited all my assets which now belong to the United States government," Dotcom told RT's Max Keiser.
"I have lost all my assets without any trial, without any hearing… I've never been to the US and yet that's what happened."
Calling "fugitive disentitlement" a "draconian doctrine" gifted to the Department of Justice by the US Congress, Rothken said the measure was no more than an excuse for the US to make up new laws and carry out secret government operations.
Use the live stream to find and expose US Govt misconduct & lies in my case. I'll retweet your research & videos. Let's have some justice!

— Kim Dotcom (@KimDotcom) August 30, 2016
"This is offensive to any type of justice and it's part of the triangle of destruction that the United States uses as a game-plan from making up laws which they did in this case to having secret government proceedings which they did in this case when they took down Megaupload with no lawyer for Megaupload present, and the third part of that is forfeiture what they're doing right here," he explained.
Dotcom is furious with the US for imposing an "unethical strategy" and utilizing every opportunity to prevent him from having a fair trial.
"Even though we have court orders giving me access to pay to lawyers, the United States government tells my US lawyers 'if u receive any of this money you yourself are committing a crime'," he said.
When shutting down the Megaupload website back in 2012, the US "infringed" upon democracy itself, the lawyer said adding that the "First Amendment was injured and injured irreparably" as a result.
Both Rothken and Dotcom express great hope in their winning the trial. However, if they do lose the legal battle, the case would have a "chilling effect" on the whole of the internet industry.
"This can go out and affect any user-generated content site… So if Kim Dotcom loses it will have a chilling effect on user-generated content sites, on internet economics, it would elevate Hollywood economics over those of technology companies…" the lawyer said.
"This is basically SOPA [The Stop Online Piracy Act] through the backdoor…SOPA failed but if they win in my case, every internet service provider will be forced to police the internet and to police the users to not end in a similar situation like myself," Dotcom added referring to the controversial bill introduced by the US in 2011 largely seen as a crackdown on the internet, freedom of speech and privacy.
Dotcom's legal troubles over Megaupload started in January 2012 after the US issued an indictment against him on charges of copyright and racketeering in connection with the file-storing site. As a result the website was shut down. The US alleges that its management paid users to upload copyright-protected content and collected huge sums of money from a growing audience.
You can share this story on social media: