US forces in Turkey hit ISIS in Syria with rocket fire - envoy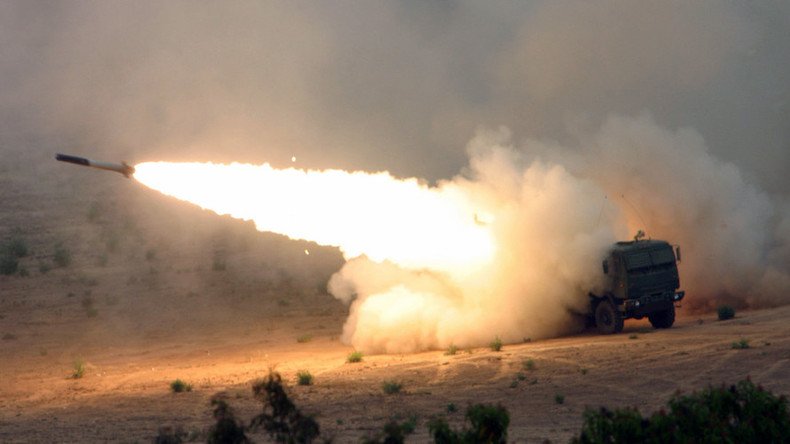 Washington has deployed mobile rocket artillery in the south of Turkey in order to target Islamic State (IS, formerly ISIS/ISIL) militants in Syria, a special US envoy said on Saturday. This is the first reported rocket strikes delivered by US into Syria.
The US forces hit IS positions close to the Syrian border with Turkey last night, having launched the attack on terrorists with a "newly deployed" High Mobility Artillery Rocket System (HIMARS), the US-led anti-IS coalition's special presidential envoy, Brett McGurk said on Twitter.
The American embassy in Turkey confirmed the HIMARS deployment, calling it "the latest step in US-Turkey cooperation" in fighting the terror group in the region.
Ankara and Washington have reportedly held discussions regarding the deployment of US rocket launchers in Turkey since the spring. However, it was not immediately clear when the system was first deployed at the Turkish border with Syria, Reuters reported.
READ MORE: US denies it failed to provide 'agreed' air cover to Turkish & FSA forces attacked by ISIS
On Saturday, Turkey, which is a member of the US-led coalition, widened its military efforts on the ground to clear the territories near its borders from IS militants.
Having opened up a new line of attack, Ankara's tanks crossed the border into Syria from Kilis province, Reuters reported. On August 24, Turkey launched a ground incursion into Syria targeting IS and Kurdish fighters near the town of Jarabulus.
READ MORE: Turkish forces 'liberated' 400 sq. km of Syrian land – Erdogan
The US-led coalition has been fighting IS militants in Syria and Iraq since 2014.
The American forces have been largely carrying out airstrikes at terrorists targets in the region. Washington has also been involved in what it calls a training mission on the ground, providing local forces with weapons and expertise to fight the jihadists.
You can share this story on social media: