Tsunami warning issued after 7.1 magnitude quake off New Zealand coast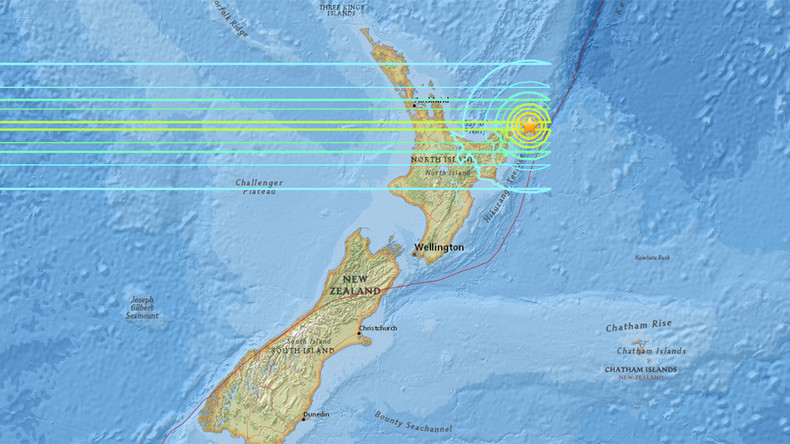 A powerful 7.1 magnitude earthquake has struck off the coast of New Zealand, 167km northeast of the town of Gisborne, according to the US Geological Survey (USGS). Officials have urged people along the coast to evacuate to higher ground.
The USGS did not issue a tsunami warning following the earthquake, and has downgraded the magnitude from an initial 7.2 to 7.1, at a depth of 30.7km.
There have been no reports of casualties or damage to buildings as yet.
New Zealand's GeoNet reported that it was a 7.1 magnitude earthquake with an epicenter located at a depth of 55km.
Almost 800 people live within a 100-km zone around the epicenter, local media report. The town of Gisborne, with a population of 34,274, lies 167.9km away.
Hawaii's Emergency Management Agency also said on Twitter that there is no detectable tsunami threat.
The shocks from the quake lasted for between 30 seconds and a minute, according to local residents. The Gisborne District Council called on the locals living along the coast to evacuate and get to higher ground.
New Zealand's Civil Defense Ministry issued a Tsunami Potential Threat advisory for all New Zealand coastal areas, including the Chatham Islands, by saying that strong tsunami currents and surges are possible following the earthquake.
The area in which the quake occurred, on the eastern margin of the Australia plate, is among the most seismically active on the planet, according to USGS.
The quake hit New Zealand just a day after another powerful 5.1 magnitude earthquake struck Kumamoto Prefecture on the southwestern Japanese island of Kyushu. The high-speed rail service was temporarily suspended at that time.
You can share this story on social media: