Suspected shooter of 2 officers & civilian in Copenhagen detained - police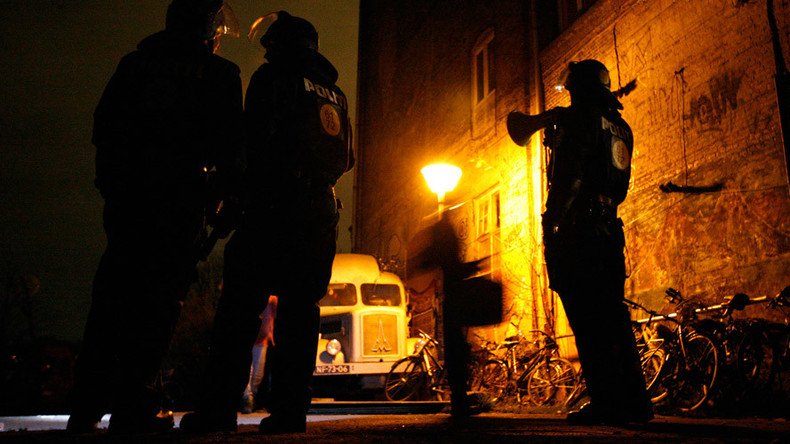 Two police officers and at least one civilian have been injured by gunfire in the self-proclaimed autonomous neighborhood of Christiania in Copenhagen, according to Danish police. The armed suspect behind the shooting was later arrested.
One police officer was shot in the leg, while another one suffered a head wound, police confirmed on Twitter.
One civilian was also hit in the thigh, authorities added, emphasizing that the person had not been injured as a result of police gunfire.
The civilian who was shot in the incident is of "foreign descent" police said, adding that the individual is in contact with police and has stated that he has no relatives in Denmark.
Officers were fired on while engaged in "routine work" in Christiania, the Copenhagen Police clarified in another tweet.
Witnesses reported hearing up to nine shots being fired during the incident near Fredens Ark (Peace Arch), the largest building in Christiania.
"We are massively present around Christiania" in order to "get hold of a perpetrator," police confirmed.
Authorities urged locals to stay away from the site of the incident, which has been sealed off following the shooting.
According to social media reports, police, who were deployed in large numbers, did not allow anyone to leave the neighborhood.
According to Danish television channel TV2, all roads into Christiania were cordoned off by heavily armed officers. Princess Street was also reportedly closed, with a large number of police and emergency vehicles having been sent into the area.
On Thursday morning, police said in a press release that the armed suspect had been detained. The suspect is currently in a critical condition, police said.
You can share this story on social media: