5 killed as car bomb explodes outside Somali president's residence, nearby hotels destroyed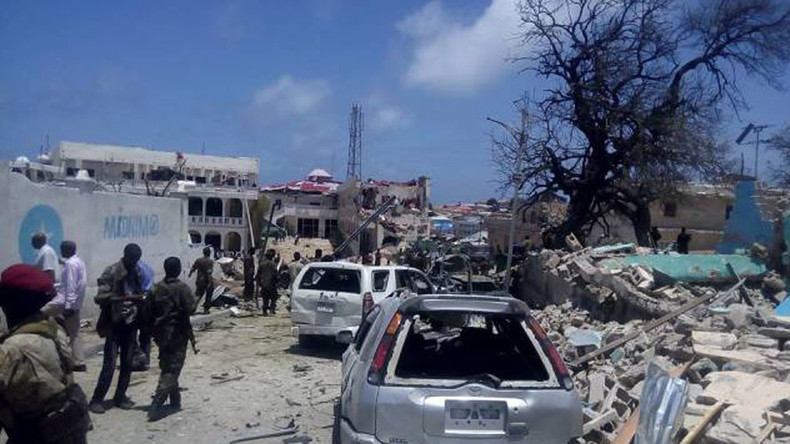 A car bomb went off outside the Somali president's residence in the capital, Mogadishu, killing at least five soldiers, police said, as cited by Reuters. The blast caused the partial destruction of nearby hotels.
"A suicide car bomb exploded outside the presidential palace. So far two hotels opposite the palace are partially destroyed," Major Mohamed Ali, a police officer, told Reuters by phone.
One of the hotels damaged in the blast was Somali Youth League Hotel located some 550 meters from Villa Somalia which serves as the official residential palace and principal workplace of President Hassan Sheikh Mohamud.
A huge plume of smoke could be seen from the area of the blast on pictures, posted on Twitter. The blast was heard across the whole city, Reuters reported.
The blast was followed by gunfire, multiple witnesses reported on social media.
At least five soldiers were killed in the attack, Police Colonel Abdikadir Hussein told Reuters.
"So far we know five government soldiers died in the blast. It exploded outside the SYL hotel which is also just at the checkpoint outside the palace. We believe the target was SYL which is frequented by officials. The death toll may rise," he said.
There were also reports that the SYL hotel was stormed by gunmen from Al-Shabaab group, an Al-Qaeda affiliate.
Al-Shabaab militants claimed responsibility for the attack, according to the group-controlled Radio Andaluz.
Militants from Al-Shabaab group have repeatedly targeted the Somali capital. Earlier this month at least nine people were killed after terrorists attacked a restaurant in Mogadishu. A car bomb went off there before gunfight broke out, according to police.
In a separate incident, a roadside bomb was detonated in southern Somalian town of Baardheere. It was believed to have been planted by Al-Shabaab militants. Local media said that it injured 10 people, including the Baardheere district commissioner.
In January, 20 people were killed when militants attacked the Beach View Café in the capital, using the same tactics of a car bomb followed by a shootout.