Gypsies forced out of Ukrainian village, violence erupts following killing of 8yo girl (VIDEO)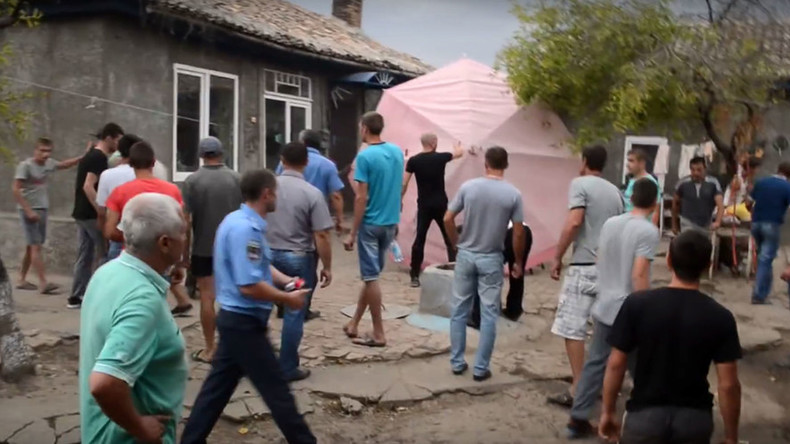 Some 12 Roma families will be moving out of a village in the Odessa region in southern Ukraine after hundreds of locals attacked their homes. The violence broke out after a girl was found dead in the village, with a Gypsy man suspected of the murder.
Six houses belonging to the Gypsies in the Loshchinovka village were attacked by some 300 locals, TASS reported. Authorities sent law enforcement detachments to the area, after hundreds gathered to trash the Roma families' property.
Following negotiations with the locals, officials said the Gypsies agreed to gather their belongings and leave the village, to be moved to other areas in the region. They would move out on Monday morning, guarded by police, and later sell their houses, RIA reported.
There is no legal framework to organize such a move, Interfax Ukraine cited a local official as saying. But the Roma people agreed to leave their homes, as they realized they would not be left to stay there in peace, the head of local administration added, saying "no less than 50" Gypsies with their children will move.
A body of an 8-year-old girl with signs of violent death was found in an abandoned house in the village on Saturday. A 20-year-old Roma men was then detained, suspected of the killing. When the locals learnt of the arrest, they gathered in the streets and launched their attack on the Gypsy property. Locals later accused the Romas of exacerbating the crime situation in the area.
The governor of the Odessa region, former Georgian President Mikhail Saakashvili, said he "fully shared the outrage of the locals," and sent the police chief to the district. "There is a real creep joint there, and mass drug trafficking conducted by the antisocial elements living there," Saakashvili said at a news conference on Sunday, adding that the authorities should have addressed the issue "long ago."