Powerful storm in Chechnya blows roofs off of homes, kills at least one (VIDEO)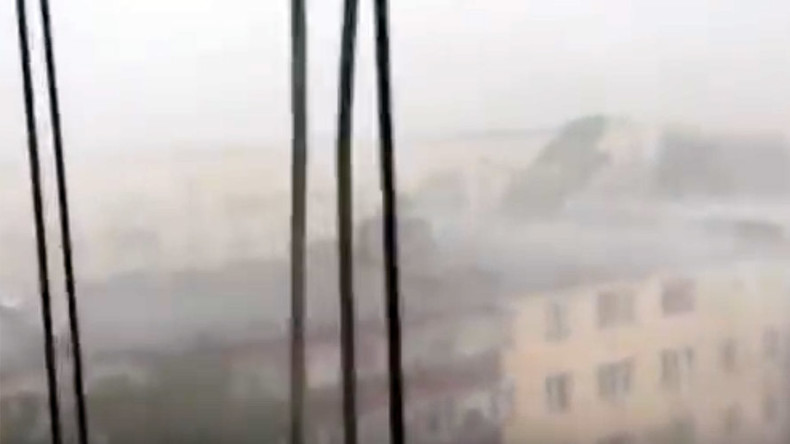 A severe windstorm with heavy rain swept through the Chechen capital of Grozny on Saturday night, ripping off trees, roofs, advertising boards and turning streets into rivers. A young woman died in the storm and a man was injured.
A state of emergency has been invoked in the city as community services are dealing with the aftermath of the boisterous weather, which knocked down over hundred trees and power lines.
Roofs of over two dozen buildings, including schools, hospitals, culture facilities, administrative buildings, a sports center and an office of a local TV channel were damaged.
"In connection with the accidental situation on housing and utilities objects, the decision to declare an emergency situation in Grozny was made," the city's mayor Muslim Khuchiev said, RIA Novosti reported.
A slab ripped off the building by a strong wind crashed onto a 21-year-old woman, killing her on the spot. A middle-aged man, a watchman of a local brickyard, was injured during a routine tour.
Torrential rains have flooded the streets impeding the traffic. Footage posted by local car owners show cars practically swimming.
"We're swimming," @mercedesbenzchr wrote.
Power outages were also reported in parts of the city.
The storm did not spare the residence of Ramzan Kadyrov, acting head of the Chechen Republic, who posted a video showing the completely flooded alleys with commentary in Chechen.
The politician called the scope of the damage "serious" and yet to be assessed, and ordered to set up an emergency response center disaster relief with the first deputy head of government, Ibragim Zakriev, in charge.
The foul weather also disrupted a football game between junior teams of local FC Terek and FC Rostov. The game was called off by the judge with the hosts in the lead, 1-0, as the weather conditions deteriorated dramatically and the field was flooded.
On the footage published on the official FC Terek account, almost nothing of the field could be seen let alone the players.
The match is set to be resumed the next day.
A community cleanup has been arranged by the authorities to take place on Sunday. Volunteers will help community service workers in clearing up streets and squares.