Taliban capture eastern Afghan district after overrunning govt. forces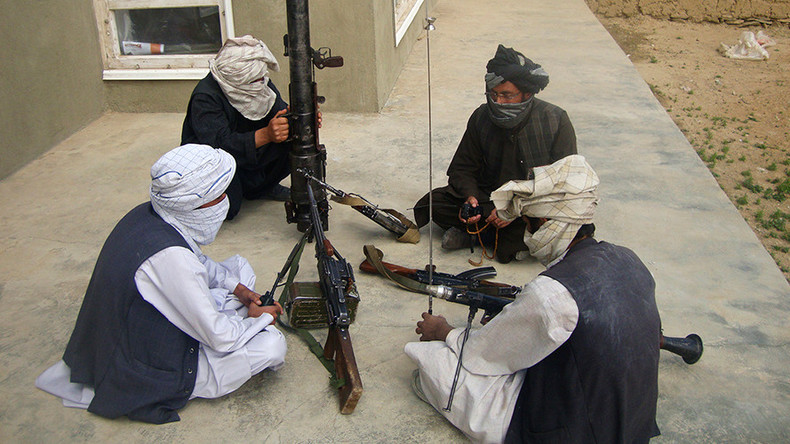 Taliban capture eastern Afghan district after overrunning govt. forces Hundreds of Taliban militants reportedly took control of a district in eastern Afghanistan after a gun battle with government troops that killed and injured scores of soldiers and police.
The governor of the Jani Khel district, which is situated south of the capital of Kabul and borders Pakistan, said that the government security forces had to pull out overnight due to heavy fighting.
"Our district was surrounded by Taliban for almost five days," Abdul Rahman Solamal told Reuters, adding that "hundreds of them attacked our check posts overnight.
Officials say that reinforcements will be sent to help recapture the district, and Solamal says it is imperative to regain control of the area. A spokesman for the governor said that the security forces had to make a "tactical retreat to avoid civilian casualties."
"If we do not retake it soon then Taliban can easily move from one province to another and can undermine security in at least three provinces," he said.
Afghan broadcaster 1TV News says that at least five government soldiers were killed. However, citing Solamal, Reuters said that more than 20 soldiers and police were killed and another 20 were wounded.
The governor also claimed that some 200 Taliban fighters had been killed, but this figure has not been independently verified.
Taliban spokesman Zabihullah Mujahid said in a statement that the militant group was in full control of the district, where they were able to capture a great deal of equipment, including armored vehicles, light and heavy weapons, and ammunition.
A recent report from private intelligence agency Stratfor showed that the Taliban is stronger than ever and operating in more territories than at any time since 2001, when the US started its campaign in Afghanistan.
The militant group has made significant gains in Helmand province and is almost in total control of the region.
In an attempt to stop the militant group's advance, some 100 US troops have been sent to Helmand's capital, Lashkar Gah, to support the local Afghan authorities.
"Around 80 percent of the province is under the control of the insurgents," the head of Helmand's provincial council, Kareem Atal, told AP. "There are a number of districts that the government claims are under their control, but the government is only present in the district administrative center and all around are under the control of the insurgents."
Most US combat troops left Afghanistan at the end of 2014, but the planned withdrawal of the "advisers" that remained as part of a mission dubbed "Resolute Support" has stalled due to the inability of government forces to defeat the Taliban.
The majority-Pashtun province is also a major center for opium cultivation, with an annual crop valued at an estimated $3 billion. Though the Taliban outlawed opium in 2000, they reversed the decision after US and NATO forces invaded Afghanistan following the 9/11 terrorist attacks. Heroin produced from poppies in Afghanistan is now a primary source of funding for the insurgency, US officials say.
Stratfor also pointed out that the Taliban has recently reached a shaky truce with one of its key rivals in Afghanistan – Islamic State (IS, formerly ISIS/ISIL).
"The short-term cessation of hostilities has enabled the Taliban to concentrate on pushing back Afghan troops in Nangarhar province," the intelligence group said.