Turkey opens 3rd bridge linking Europe to Asia (VIDEO)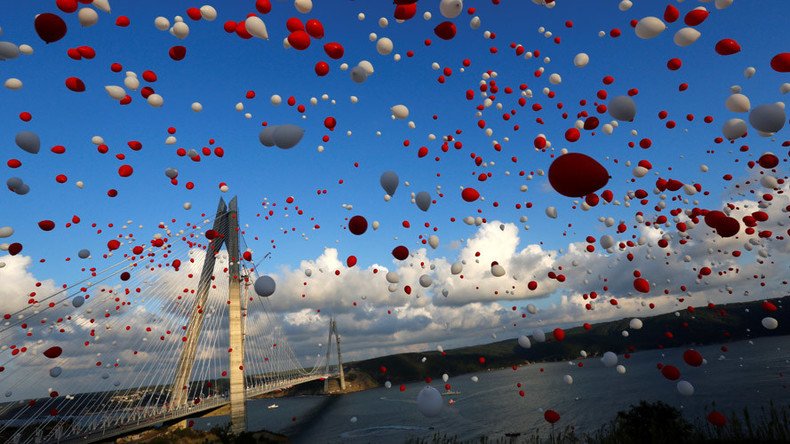 Turkey has opened a massive $3-billion suspension bridge that links the European and Asian sides of Istanbul. The relative of the Golden Gate, Akashi Kaikyo, and Moscow's Crimean Bridge was unveiled by President Recep Tayyip Erdogan on Friday.
The 1.4 kilometer- (0.9 mile-) long, 59 meter (65 yard-) wide Yavuz Sultan Selim Bridge was opened at a ceremony attended both by Erdogan and Prime Minister Binali Yildirim while a massive crowd waved Turkish flags.
The ambitious project has been seen by many as Erdogan's attempt to leave his mark on the country's history – including by the Turkish president himself.
"When a man dies, he leaves behind a monument," Erdogan said during the ceremony.
The style of the bridge, which is named after a 16th-century Ottoman ruler, resembles that of Istanbul's existing bridges, as well as that of the iconic Manhattan Bridge. However, the Yavuz Sultan Selim Bridge constructed by Italy's Astaldi and Istanbul-based IC Ictas was built to be the tallest and broadest suspension bridge in the world.
The bridge will ease traffic in the region, where around 135,000 vehicles are projected to cross the bridge each day.
The project is part of Erdogan's $200 billion infrastructure plan that was announced three years ago and is planned to continue for over a decade.
Bridges have taken on a more symbolic role in Turkey in the aftermath of the failed July coup attempt. The violent and bloody clashes between pro-coup troops and anti-coup protesters on Istanbul's Bosphorus Bridge led it to be renamed the Martyrs of July 15 Bridge.
You can share this story on social media: