Close all mosques & ban the Koran: Poll-topping Geert Wilders launches 'de-Islamization' manifesto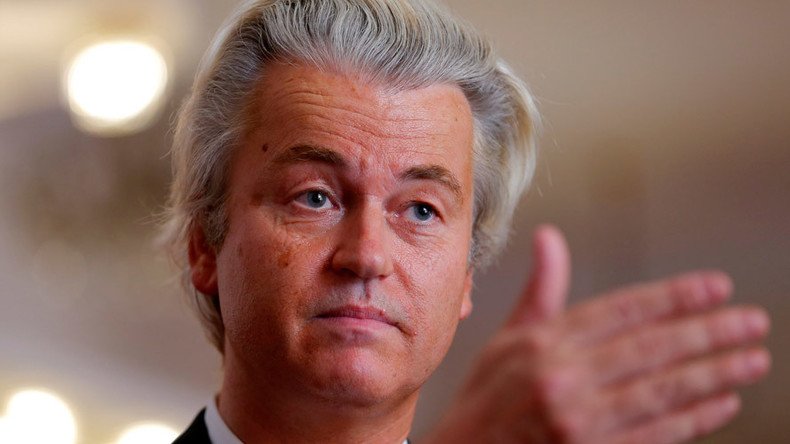 Geert Wilders, the wild-haired head of the right-wing Dutch Freedom Party (PVV), launched a new manifesto that calls for the "de-Islamization" of the Netherlands as he leads in the polls to become the next prime minister.
Titled, "The Netherlands is ours again," Wilders published the one page, 11 point screed on Thursday, highlighting the party's hard-line positions on Islam.
The document, published ahead of a general election in March, calls for the closure of all mosques and Islamic schools, a ban on the Koran, and "no more immigrants from Islamic countries."
A ban on "Islamic headscarves" in public is also proposed, as well as the prohibition of all "Islamic expressions which violate public order."
All these measures will, Wilders argues, save the country €7.2 bn (US$8bn).
"The PVV is fighting Islam, wants to close the borders of the European Union and all the billions we thus save giving back to the people," Wilders said in a statement. "My message to Netherlands: Netherlands must again be ours."
It also targets the European Union with the party promising to hold a referendum on the country's membership in the EU.
The PVV is also calling for spending to be increased in the areas of policing and armed forces while they want "no more money for foreign aid, windmills, art, innovation, public broadcasters."
Wilders' plans have been described as "utterly bizarre and unbelievable" by the leader of the Christian Democratic Appeal, Sybrand van Haersma Buma.
"The program will further polarize Dutch society," he said.
Wilders, who has twice appeared in court for inciting hatred in both 2011 and in March 2016, will emerge as the biggest party following March's elections, if the opinion polls are to be believed.
There is a catch though, with most parties stating they won't go into coalition with Wilders.
Wilders, who has often been compared to US Republican presidential Donald Trump for both their shared hair styles and immigration policies, attended the four-day US Republican Party convention in July.
"I wish we had political leaders like this in the Netherlands who defend their own country... and forget the rest," Wilders said of Trump's bid for the US presidency.
In 2009, Wilders was banned from the UK on public security grounds after his film "Fitna" branded the Koran a "fascist book" and linked it to terrorism, causing much controversy. An immigration tribunal ruling overturned the ban shortly after, however.
The following year, the PVV supported a minority government led by the People's Party for Freedom and Democracy (VVD). This relationship ended in 2012, however, when the PVV pulled their support over austerity measures VVD wanted to introduce.
You can share this story on social media: