Israeli troops kill 'unarmed, mentally ill' Palestinian man in West Bank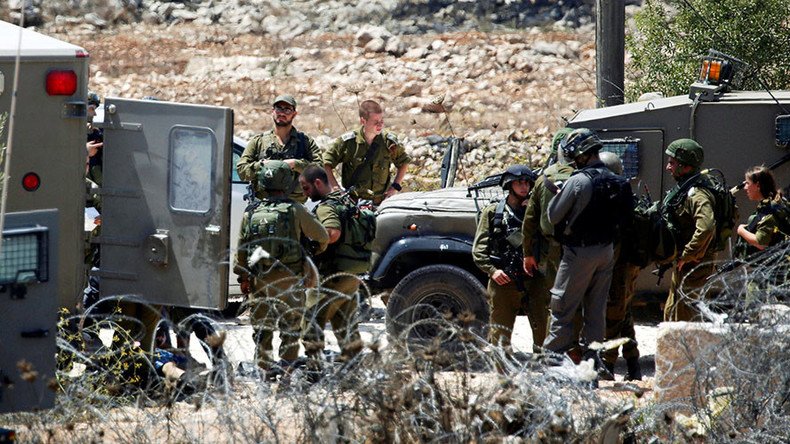 Israeli soldiers shot dead a Palestinian man in a village in the occupied West Bank on Friday. A Palestinian official said the man was suffering from a mental illness, while it is reported that he was not carrying any weapons.
Official Palestinian medical sources identified the man as 38-year-old Iyad Zakariya Khamed, Haaretz reported. He was shot dead by Israel Defense Forces (IDF) soldiers as he ran towards a military post they were guarding at the entrance to the village of Silwad.
"[Israeli] forces identified a suspect running toward an IDF [Israel Defence Forces] post in Silwad," the military spokeswoman said, as cited by Reuters. "Upon the suspect's advance, the forces shot the suspect, resulting in his death. The incident is currently being reviewed."
The spokeswoman said that "the details were still being checked," when asked whether the Palestinian had been armed. Israeli media cited Palestinian officials as saying that no weapons were found on his body.
The IDF troops who opened fire were from the ultra-Orthodox Netzah Yehuda Battalion, according to YNet News. No soldiers were injured in the incident.
In June, the IDF "mistakenly" killed a 15-year-old Palestinian teen and injured four other youths in the West Bank, as they tried to quell rioters who were pelting stones at Israeli vehicles on a busy road.
The teen, identified by the Palestinian Ministry of Health as Mahmoud Badran, was fatally shot when the vehicle he was traveling in was fired upon by an Israeli military patrol, the head of the village council of Beit Ur al-Tahta, Abdul Karim Kassem, told Reuters.
"It is the summer and it's Ramadan, people leave the village to go to the pool in Beit Sira, they were coming back between 1:15am and 1:30am and suddenly Israeli forces started shooting at their car. No one asked them to stop or asked them for ID," Ahmed Shami, a cousin of the killed teen, was quoted by the Washington Post as saying.
Since October, at least 209 Palestinians, many of whom were acting alone and with primitive weapons, have been killed by Israeli forces. In the same time period, Palestinians have killed 33 Israelis and two Americans who were visiting Israel.
WATCH MORE:
You can share this story on social media: