Islamists shell Aleppo killing 6 civilians & injuring dozens more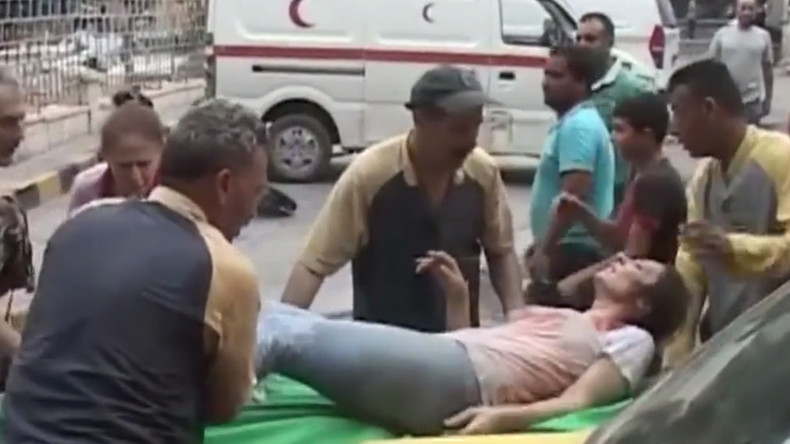 At least six people were killed and 34 wounded as several neighborhoods of Syria's Aleppo were shelled Thursday. Islamic State and Al-Nusra Front were reportedly behind the shelling, releasing rockets and grenades on the civilian areas.
Aleppo's neighborhoods of Al-Jabriyah, Salah al-Din and Al-Zahraa were affected.
The groups responsible for the shelling included Islamic State (IS, ISIS/ISIL) and Al-Nusra Front terrorists, according to the information provided by the Bulletin of the Russian Center for Reconciliation of Opposing Sides in Syria.
"Islamic State and Al-Nusra Front continue to impede the final establishment of the cessation of hostilities. During the last 24 hours, terrorists fired from multiple rocket launchers on the city of Aleppo," the Russian Defense Ministry said in a statement.
The updated toll of the dead and injured was released by the SANA news agency, citing police sources.
"We were at our work, they hit us and destroyed the neighborhood. Innocent people, women and children have died. What is their guilt? Don't they have mercy?" a local resident says in a video shot by RT's Ruptly agency.
The damage from the attacks is said to be massive, especially to private and public buildings.
Witnesses described the brutal tactics the terrorists use in Aleppo, stating that militants use civilians as human shields.
READ MORE: 'They beheaded my son in front of my eyes': Grief-stricken Syrians share chilling memories with RT
One Syrian soldier told the Russian channel Vesti that the militants plan their attacks by picking locations with many civilians, knowing fully well that the Syrian soldiers will be powerless to respond.
At the same time, IS terrorists launched rockets on Um al-Serj village located in eastern Homs province. Two more civilians were killed there, SANA reported.
Residents of Aleppo are waiting to receive another round of humanitarian aid, which the fighting hinders. The UN has prepared two humanitarian convoys and they are ready to be delivered.
You can share this story on social media: