High alert: Russia tests army's readiness in massive snap exercise in west & south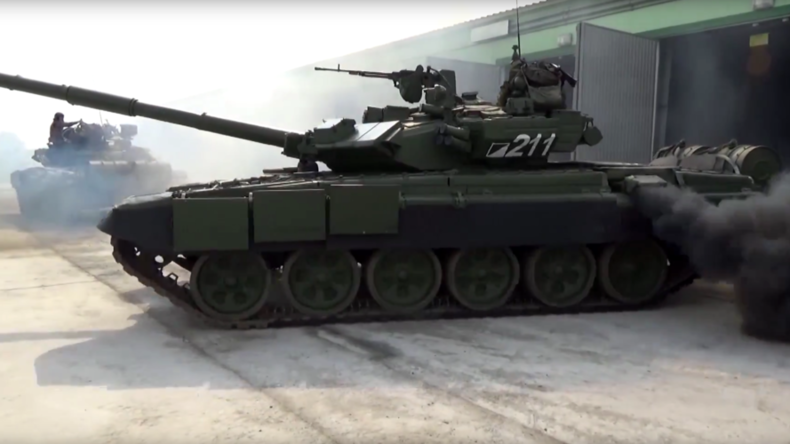 Russian Army units as well as the Air Force, Airborne Troops and the Navy's Northern Fleet have been put on high alert as part of a large-scale snap exercise which the Defense Ministry says will check troops' readiness to tackle emerging crises.
"According to the decision of the Commander-in-Chief of the Armed Forces [President Vladimir Putin], a regular snap exercise begins today," Defense Minister Sergey Shoigu said at a briefing with top military commanders on Thursday.
"Troops in the Southern Military District, some units of the Western and Central Military Districts, as well as the Northern Fleet, the Air Force and the Airborne Troops, are to be put on full alert starting from 7.00am [local time]," the minister added.
The exercise will last until August 31, Shoigu said, ordering the deputy defense minister – who is in charge of military-to-military cooperation – to inform foreign defense attachés of the war games.
The first day is set to test the Russian military's rapid response capabilities and combat readiness, according to officials. Army units will then move to training areas and act according to simulated scenarios.
Shoigu said the massive war games would allow the troops to be trained to "defend Russia's interests amid emerging security threats" in the country's west and southwest. The military districts were ordered to form "sustainable task forces" to deal with possible crisis situations within their areas of responsibility.
In addition to the military formations, the large-scale war games will involve logistics and communications units which will back up a "viable command-and-control chain" for troops on the move.
Lithuania's defense minister, Asta Galdikaite, also criticized Russia's snap military exercises, saying that they were leading to an increase of tensions in the region.
"We regret that for the last four years Russia disregards its neighboring countries, behaves unexpectedly, often practicing large-scale exercises. It goes against the stability or transparency in the Euro-Atlantic space," Galdikaite was cited as saying by the BNS news agency.
Meanwhile, Poland's Foreign Minister, Witold Waszczykowski, acknowledged Russia's right to hold drills on its own territory, but asked for more transparency.
"Every army has the right to exercise. We are only interested in these drills being transparent and open so that we knew that what's going on, that aggressive maneuvers towards other states trained," Waszczykowski said on Polish television.
Massive snap exercises embracing large military formations all across Russia have taken place every year since 2014, and mainly focus on training personnel in how to act in a rapidly-changing combat environment.
Earlier this year, the Southern and Central Military Districts as well as the Airborne Troops were put on alert during separate drills.
As a rule, units participating in the war games have to leave their bases at short notice and move to a remote location, sometimes hundreds or thousands of kilometers away. Consequently, being deployed to an unfamiliar area with limited time to prepare simulates real-life missions for soldiers and officers, the military believes.
Meanwhile, NATO has carried out a number of war games close to Russia's borders. In June, Defense Minister Shoigu said the bloc's buildup at Russia's doorstep had "more than doubled," meaning Moscow would have to act accordingly.
Anatoly Antonov, the deputy defense minister, said later on Thursday the defense attachés have been briefed in detail on the exercise, stressing that the war games are being conducted in compliance with international law.
"As a goodwill gesture, we have officially informed OSCE member states as well as China and Iran on the start of the snap exercise," Antonov said.
You can share this story on social media: