Germany mulls withdrawing jets from Incirlik base amid souring ties with Turkey – media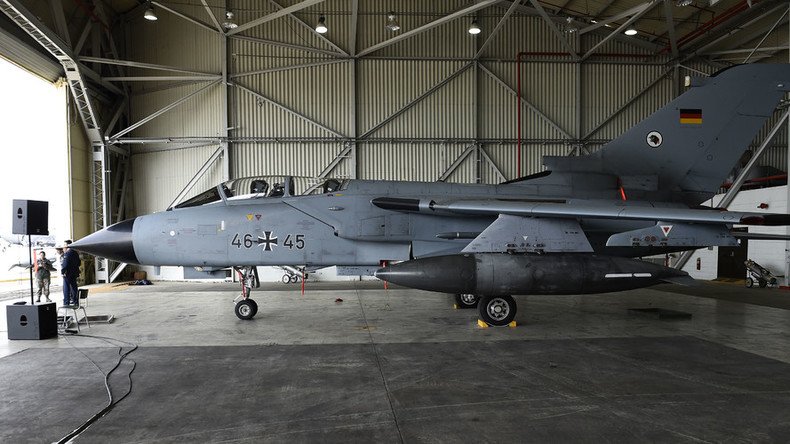 German MPs are reportedly considering withdrawing six Tornado aircraft from Turkey's Incirlik airbase if Ankara continues to deny them access to the German troops deployed there amid escalating tensions between the two NATO allies.
The Bundeswehr is evaluating several options, which include moving six Tornado reconnaissance jets and refueling aircraft from Incirlik to Jordanian or Cypriot air bases, Spiegel magazine reported on Thursday, citing military sources.
The warplanes regularly fly combat missions to support the US-led coalition's air campaign against IS in neighboring Iraq and Syria.
The source told the magazine that the withdrawal would be "a nightmare," because basing the Tornados in Jordan or Cyprus would be more expensive and complicated than at Incirlik, and the move would put German participation in the US-coalition on hold for at least two months.
Currently, aerial intelligence collected by German Tornados is directly uploaded into the coalition's systems, but this would be impossible when flying out of bases in Jordan or Cyprus, the source added.
A spokesman from the German Defense Ministry said that armed forces are studying other basing options for six Tornado reconnaissance planes, a refuelling plane and 250 soldiers if German lawmakers vote to end the use of the base.
According to the magazine, the withdrawal is advocated by Social Democrat members of Chancellor Angela Merkel's coalition government who believe that, given Turkey's refusal to allow German MPs access to Incirlik, there is no alternative.
"The Bundeswehr would surely like to continue to wage a joint war on IS from NATO's air base Incirlik," German Defense Minister Ursula von der Leyen said later on Thursday, according to N-TV news outlet.
"The operation [supported] from Incirlik is in common interest of Germany and Turkey," she stressed, though she also observed that "wise military planning always includes alternative options."
Chancellor Merkel said that Berlin is currently in talks with Ankara to ensure the German military can continue flying reconnaissance missions from the base.
"I expect that missions of the anti-IS (Islamic State, formerly ISIS/ISIL) coalition will continue to be able to be flown from Incirlik," Merkel told reporters during a visit to Prague.
"Part of that, given that we have a parliamentary army, is that German lawmakers must be allowed to visit Incirlik if they want to," she added.
Last month, the chancellor demanded that German lawmakers be allowed to visit the 250 German soldiers deployed at the Turkish base, although she refrained from threatening to withdraw the German task force.
However, Rainer Arnold, a defense spokesman for the Social Democrats' parliamentary faction, told Spiegel "The German government must promptly find other bases for German soldiers."
The party defense spokesman also stressed that the unresolved dispute with Ankara could also end Germany's participation in a separate NATO AWACS mission at another Turkish air base in Konya, as these aircraft are mainly operated by German crews as well.
Without the approval of the Social Democrats, the government cannot extend the mission when it expires in December.
Already strained relations between Germany and Turkey were aggravated in June, when the Bundestag, Germany's parliament, passed a resolution recognizing the 1915 massacre of Armenians by the Ottoman Empire as "genocide."
Multiple media outlets reported that German MPs of Turkish descent received death threats after voting in favor of the resolution and were advised not to travel to Turkey for safety reasons.
You can share this story on social media: