Turkish tanks cross Syrian border in military op to retake city of Jarablus from ISIS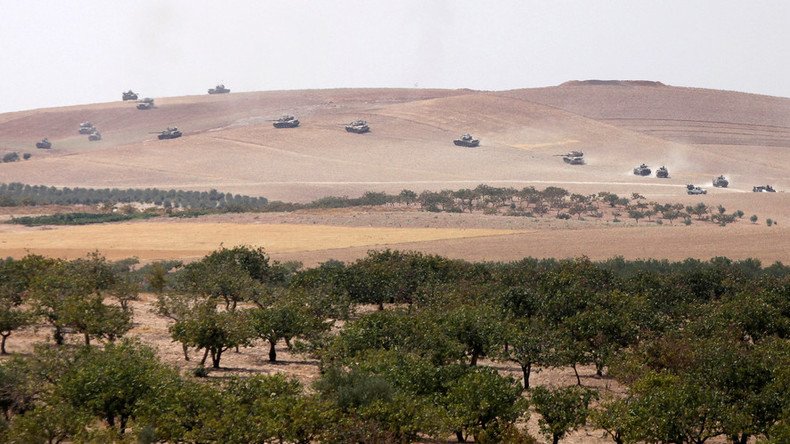 Turkey has launched a ground incursion into Syria targeting Islamic State and Kurdish fighters near the town of Jarablus. Ankara says it wants to take the town to stop cross-border attacks, while the Kurds warn that Turkish troops will get into a quagmire.
"At 4:00 this morning, operations started in the north of Syria against terror groups which constantly threaten our country, like Daesh [Arabic name for Islamic State] and the PYD [he Democratic Union Party of Syria]," Recep Tayyip Erdogan said in a speech in Ankara, adding that the incursion had been prompted by cross-border attacks originating from Jarablus that should be "stopped."
Turkish Deputy Prime Minister Numan Kurtulmus said the military operation would be "short and results-based," while insisting that it doesn't violate international law.
The Turkish operation is focused on the Kurdish border town of Jarablus, which has been held by the Islamic State terrorist group since July of 2013.
Turkish artillery began shelling targets across the Syrian border earlier on Wednesday while its tanks entered Syrian territory, as reported by Reuters. The launch of the ground offensive was confirmed by Turkish state news agency Anadolu, citing military sources. The operation, called Euphrates Shield, is also being supported by Turkish air forces, as well as A-10S and F-16 warplanes from the US-led coalition.
Turkish-backed rebels are assisting the Turkish troops. Hours into the operation, Free Syrian Army fighters captured the village of Keklice located some three kilometers from Jarablus, Anadolu reported, citing military sources.
Commenting on Operation Euphrates Shield, Turkish Foreign Minister Mevlut Cavusoglu said Kurdish fighters must remain east of the Euphrates River or Turkey will "do what is necessary."
Turkish media reported earlier that IS had launched retaliation attacks into the Turkish border town of Karkamis after the violence around Jarablus escalated. Elsewhere in Istanbul, law enforcement reportedly conducted raids targeting suspected IS sympathizers, according to the Dogan news agency.
Turkish-backed Syrian rebels report entering Jarablus
Syrian rebel groups supported by Turkish tanks and special forces, as well as US airpower, say they have entered Jarablus and now control about 50 percent of the town that had been held by Islamic State since 2013, according to Reuters. Rebel sources told the agency that most IS fighters had fled the town, while some had surrendered.
"Daesh [Islamic State] fighters have withdrawn from several villages on the outskirts of Jarablus and are heading south towards the city of al Bab," a commander from the Failaq al Sham rebel group told the news agency.
Damascus has condemned the Turkish incursion, with the Syrian Foreign Ministry calling it a breach of Syria's national sovereignty, Reuters reported citing Syrian state television.
Syrian Kurds call Turkish op 'declaration of war'
Spokesman for the YPG Kurdish militia, Redur Xelil, called Turkey's move "blatant aggression in Syrian internal affairs." Aldar Xelil, another influential Kurdish politician, accused Turkey of initiating an occupation of Syria, saying the operation amounted to "a declaration of war" on the autonomous administration set up by Kurdish groups in northern Syria in 2011.
Saleh Muslim, head of the Syrian Kurdish Democratic Union Party (PYD), warned that the Turkish forces would get bogged down in a quagmire and ultimately be defeated.
Speaking to ANFNews, Muslim said that Turkey had gone from targeting Syrian Kurds through proxies to directly fighting Kurdish fighters in Syria on the ground, adding that while Turkey had made the decision to enter Syria, withdrawing would not be as simple.
The PYD believes that Turkey has launched its operation to prevent the Kurds from retaking it from IS, Salam Ali, PYD's representative in Moscow, told RIA Novosti.
"Jarablus is located in the north of Kobani area and our forces advanced close to it. After the Kurdish troops took the city of Manbij we had plans to go in that direction. Apparently Turkey invaded from the North not to let the Kurds have this city," he said.
The Syrian Kurdish militia YPG attempted to retake Jarablus last year, but were reportedly prevented from doing so when Ankara threatened to intervene.
In the meantime, the Kurdish Firat news agency (ANFNews) reported that 29 civilians have been killed by the advancing Turkish and allied troops so far. Some 3,000 ethnic Kurds have reportedly fled Jarablus and its neighboring areas since the Turkish operation became imminent. The Kurds object to the operation, believing it to be a ploy to prevent Kurdish militias from retaking the town.
Meanwhile, Russia expressed its concern over the growing tensions on the Turkish-Syrian border provoked by the operation. Moscow is deeply worried over the potential consequences after Ankara sent troops into Syrian territory, the Russian Foreign Ministry said in a statement. It added that the Turkish operation could lead to a further deterioration in the situation and casualties among civilians.
You can share this story on social media: