'Thanks for green card, USA, but I stay in Aleppo': Syrians who won't flee war-torn city explain why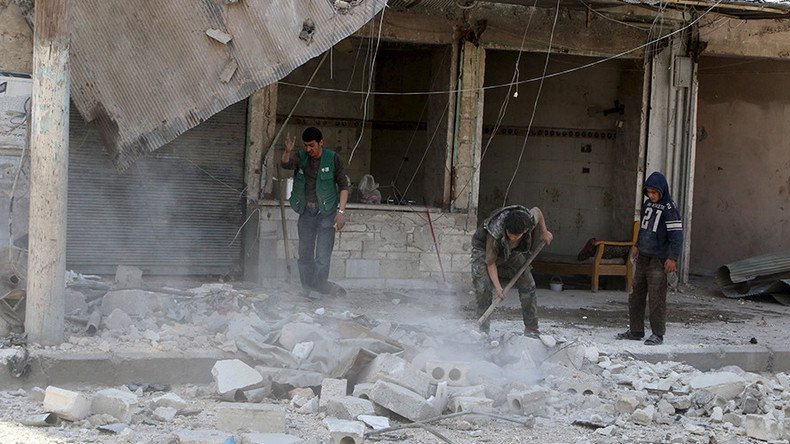 A doctor whose hospital was taken over by rebels, a woman taking care of orphaned children and a jeweler running a small shop have told RT why, as Aleppo residents, they have decided to stay, despite huge risks.
Ibrahim Hadidi, a UK-trained local doctor with his skills allowing him to easily leave the war-ravaged country, is still treating patients in Aleppo.
"Being here is my duty, I feel I'm among my family," he told RT's Lizzie Phelan, currently reporting from Syria's former biggest city. "My students, my patients, my relatives, my people, all of them are my family. Syria is my home and I will not leave whatever happens. And I have a great hope that this country will come back to be rebuilt, to be far better than the previous situation of these troubles."
"[The terrorists] don't want people to stay in their country and to build health authorities and health centers to give these very important and vital health centers to people," he told RT, adding that the doctors have also been targeted by extremists.
Hadidi's own hospital had been seized by the opposition forces. But he would not take his skills abroad.
He works as the manager at the Aleppo University Hospital after his predecessor there was killed by a rebel sniper.
It's one of the two government-run hospitals in the city, which had eight such medical facilities before the war.
"Honestly, when I talk about that hospital [where he used to work] there's some sadness coming inside, what a pity. [The hospital] was attacked by terrorists and they took it over and most of the machines which had been helping and applying health services in Aleppo were stolen," he said.
Razan Mahfouz says she decided to stay for the children, those who were orphaned during the war and who have nowhere to go. She runs two schools that house and educate kids who have lost their parents.
One of the schools is situated on the very frontline in the Hamdaniyeh neighborhood.
"Since 2014, three missiles have hit our school, one of them killing seven children and leaving another 24 injured. The reason all this happened is that we stand with our homeland and government," she told RT.
Mahfouz is sure that the terrorists want them to close the school, but they won't. "We will continue providing education to our children," she said.
Answering RT's question if she ever thought of leaving Syria, as she appears to have resources to do so, she said a solid: "No."

"Where did I get my money from? I got it all from my country. Do you think I can take the money and leave Syria?" she asked.
Instead of leaving, Mahfouz decided to open a swimming pool for kids at one of her schools.
Joseph Fannoun, a renowned jeweler, goes to work every day despite the constant fighting. His neighborhood, Azaziyeh, is on the frontline with the Al Hatab Square area of the Old City.
"In Aleppo, we wake up to the sound of terrorist bombings, terrorists try to make us afraid of going out but we continue living, and continue going to work," he said.
He told RT's Phelan that the area where he works "has been hit by mortars twice recently."
He adds: "A friend of mine was killed by a shell right in front of his shop."
The jeweler used to have a shop in Detroit as well, but he decided to close it when the war started so he could stay in Aleppo.
READ MORE: Propaganda tool? China skeptical over images of Syrian boy as source denies ties with child-killers
"This is my home document, my passport and my green card, that would have let me go to the USA in 2012," Fannoun says showing a pile of personal papers. "Thank you, USA, but I prefer to stay in Aleppo."
You can share this story on social media: