Woman injures 3 in Belgium stabbing attack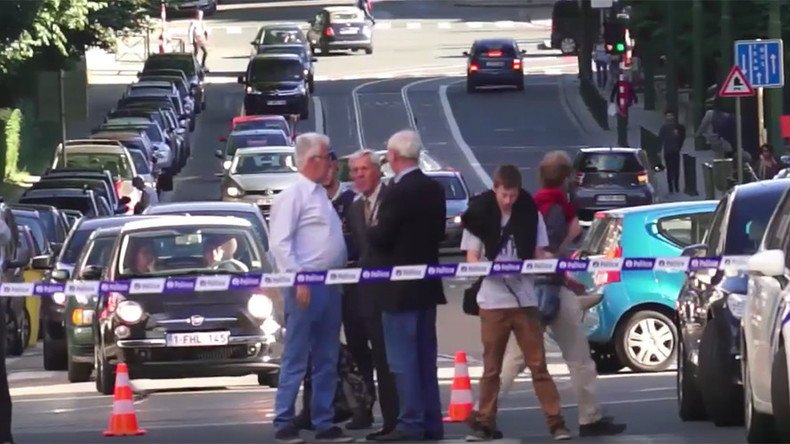 Police shot and wounded a woman in a Brussels suburb after she attempted to stab three people, the city's public prosecutor's office has confirmed.
The attack took place as passengers were disembarking a bus in the municipality of Uccle in the Belgian capital at around 5pm on Monday, by a woman who had also been inside the vehicle.
National broadcaster RTBF said that two of the victims have been taken to hospital with serious injuries, and one suffered a minor cut.
"The assailant came out talking, we didn't understand what she was saying," Severine Marot, who witnessed the incident, told RT's video news agency Ruptly.
As panic spread on the street, she "sat at a table, we told everybody to leave the terrace. We made sort of a security zone until the police came and stepped in."
Police reportedly told the attacker, who refused to comply, to give herself up, before shooting her in the arm with a blank.
Police sources have told RTBF that the woman was Asian and had a history of mental illness. Investigators do not currently believe that this was a terrorist incident.
Belgium is on high alert following a string of terrorist attacks over the past year.
A man armed with a knife and shouting "Allahu Akbar!" launched himself at two policewomen on August 6 in the city of Charleroi. The perpetrator, who inflicted serious facial wounds upon one of his targets, was then fatally shot.
The deadliest attack happened in March, when five suicide bombers, who had pledged allegiance to Islamic State detonated nail bombs in Brussels Airport and a train station in the capital. Thirty-two victims were killed in the attacks.
The immigrant-populated Brussels district of Molenbeek has also been pinpointed as the heart of Europe's Islamist terrorist activity, after it was used as a recruiting center for IS jihadists, and the base from which last year's November attacks in Paris were plotted.
You can share this story on social media: