Radar for Russia's next-gen A-100 AWACS to be flight-tested next March – report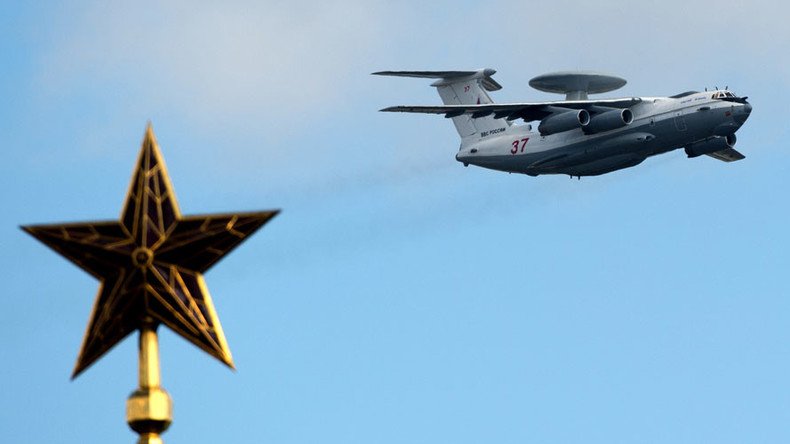 Russia's brand new 'flying radar', reportedly capable of detecting enemy targets at ranges of more than 600km, will be flight-tested next March. The A-100 Premier will make her maiden flight by 2018, a defense source told Russian media.
The Beriev A-100 is an airborne early warning and control (AWACS) aircraft currently being developed by Russia, an upgrade of the A-50. The long-awaited addition to the Russian Air Force has already been verified on the ground and are ready for in-flight equipment trials, the source told Izvestia newspaper.
"At the moment, all deadlines have been set up and agreed with the military industry," the source said.
An older Il-76 version, the MD-90A aircraft – codenamed A-100LL during the flight tests – would be first used as a "flying laboratory" to stress-test all systems in the air. The trial is scheduled for March 2017, the source said.
Once the flight tests are complete, the newest variant of the aircraft called Il-476, which was designated for the new 'flying radar', will accommodate the avionics and radar systems, including its distinctive rotating radar dome above the fuselage.
"If everything goes as planned, the 'original' A-100 will make the maiden flight in 2018," the source said.
Most specifications of the A-100 are classified. The AWACS aircraft is expected to feature a new Active Phased Array Radar (APAR) designed by 'Vega' corporation. It is said to be capable of detecting enemy aircraft at ranges of up to 600km (373 miles) and warships at ranges of around 400km (249 miles).
The aircraft is also said to have advanced signal intelligence for greater independence and electronic warfare capabilities for protection. An A-100 reportedly may be used as a fully-fledged flying HQ for the military.
Aircraft of this type are critical to ensure air superiority and improve situation awareness for military commanders in a dynamic combat environment. Long-range AWACS aircraft are operated by only a few countries, including Russia, the US, China and the UK.
The older A-50 'Mainstay' AWACS planes have been in use in the Russian Air Force since mid-1980s. As part of an ongoing re-armament and modernization effort, the Russian Air Force has received several A-50U, an upgraded version of the 'Mainstay,' throughout recent years.
Along with extended airspace monitoring capabilities, the A-50U aircraft are said to have sophisticated digital avionics which save more space for crews and improve their in-flight performance.
You can share this story on social media: