Japan to upgrade 200 F-15 jets, doubling missile payload amid E. China Sea tensions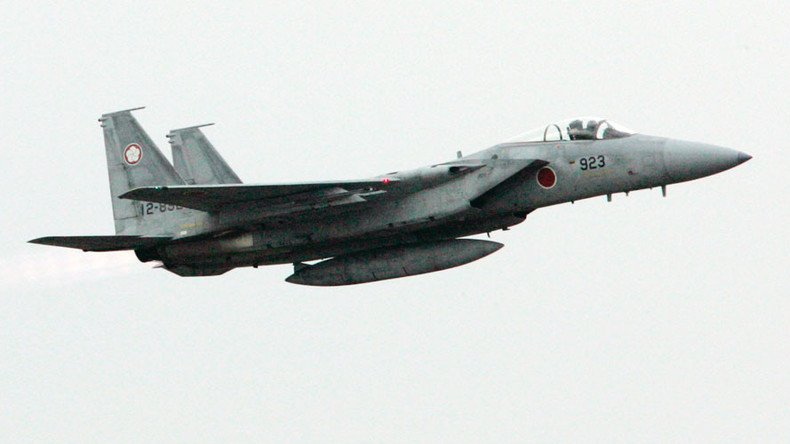 Japan's Defense Ministry wants its 200 F-15 fighter jets to carry twice as many air-to-air missiles as they do now, in a bid to prepare for a possible confrontation with Chinese Air Force around disputed East China Sea islands.
The Defense Ministry is likely to request more budgetary allocations to upgrade capabilities of its US-built F-15 fighter jets operated by Japan's Air Self-Defense Force (ASDF), Nikkei Asian Review reported on Sunday.
These upgrades would double the number of air-to-air missiles carried by ASDF F-15s, from eight to 16 per each aircraft. In addition, damaged wings and other parts of the fighter jets will be repaired to extend their lifespan.
Currently, the Japanese Air Force operates 200 F-15s in combat and trainer variants as well as roughly 90 Mitsubishi F-2 multirole fighters, a development of F-16 design.
The 2017 military budget worth $51 billion will reportedly include a separate purchase of an undisclosed number of controversial fifth-generation F-35 stealth fighter jets, said to be deployed at the Misawa Airbase at the northern tip of Honshu, Japan's main island.
Tokyo says China's "assertive" actions near the disputed Senkaku Islands – or Diaoyu in Chinese – makes Japan's military to respond with re-deploying forces closer to the troubled area and investing into strengthening combat capabilities.
"As the cruising range of Chinese military aircraft has gotten longer, they are coming ever closer to our territories," a Japanese Defense Ministry official was cited by Nikkei Asian Review.
The ministry also added the ASDF has been scrambling fighter jets 199 times from April until June to intercept Chinese planes over the East China Sea, a 75 percent increase from the same period last year.
Earlier this week, China continued to develop infrastructure next to the disputed waters, erecting a pier on Nanji Island, one of 52 islands that are part of China's Zhejiang Province, Japanese media reported.
In the meantime, the East China Sea Fleet has conducted long-range naval exercise involving simulated attacks as well as air-to-ship missile launches against enemy vessels, CCTV reported. Beijing said the war games were "routine" and in accordance with international law.
Later on Monday, Japanese media revealed a government proposal to build additional Coast Guard ships to strengthen its patrols around the disputed islands. The Japan Coast Guard already received 12 patrol craft in April, including two helicopter carriers, Kyodo news agency reported.
Both countries claim sovereignty over the area, and have consistently warned each other against hostile moves. Beijing insists the Diaoyu Islands have been known to the Chinese since antiquity, and refers to the post-WWII Potsdam declaration that largely limited Tokyo's sovereignty to only the four major islands of Japan.
You can share this story on social media: