Kurds thwart suicide blast attempt in Iraq, defuse teenage bomber's belt (VIDEO)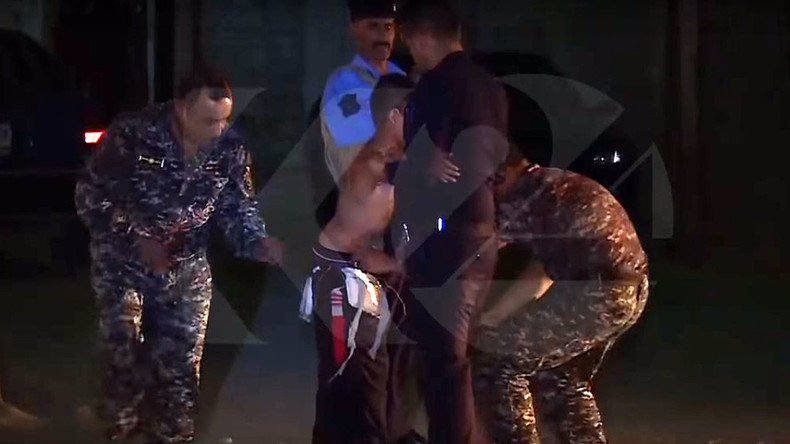 Chilling footage has emerged purporting to show Kurdish security forces defusing an explosive belt attached to a teenage suicide bomber in the Iraqi city of Kirkuk.
The tense moment, captured on camera, showed Kurdish law enforcers arresting a young suicide bomber in the Iraqi city of Kirkuk late Sunday, Rudaw reports.
The boy, who allegedly wore a suicide belt and was reportedly aged between 12 and 13, can be seen surrounded by several armed officers. The youngster's hands are held by two law enforcers while another one is defusing the explosive device attached to the boy's body.
"Security forces are now defusing the explosives belt," Rudaw reporter commented on the operation. The arrest was also reported by Kurdish Kurdistan24 channel, with the media outlet posting the full clip of the incident on their YouTube channel.
After the suspected bomb was removed the boy was arrested by authorities and taken to a police car. Kurdish media outlets did not provide any details on where the boy planned to stage a potential attack and who was behind the action.
The incident came at a tense time: Kirkuk was hit by two suicide bombers on Sunday, Kurdistan24 reported. One of the attacks struck just meters away from the entrance to a mosque, injuring one police officer and three civilians, the outlet said. The explosive device was detonated after law enforcers shot at the perpetrator who ignored calls to be frisked before entering the religious site.
A suspected teenage suicide bomber also struck neighboring Turkey on Saturday, hitting a packed wedding ceremony in the town of Gaziantep. At least 51 people were killed, including a three-month-old infant, while nearly 70 were injured.
Turkish President Recep Erdogan called the assault a "heinous" terror act and blamed Islamic State group (formerly known as IS, ISIS/ISIL) for the atrocity.
A report published by the Combating Terrorism Centre early this year stated that ISIS increasingly filled its ranks with child soldiers while suffering losses from the airstrikes and ground campaign against the terrorists.
While investigating the social media accounts of jihadists the researchers found at least 89 "recorded deaths of child soldiers" between January 1 of 2015 and the end of January of this year.
"The data unambiguously suggests that the Islamic State's mobilization of children and youth for military purposes is accelerating," the report claimed. The paper also raised alarm bells over the rising rate of suicide attacks committed by children, who were "brainwashed" by the terrorist group.
"The rate of operations involving one or more child or youth is likewise increasing; there were three times as many suicide operations involving children and youth in January 2016 as the previous January," the document stated.
According to the investigation half of the kids died in Iraq while at least 30 percent lost their lives during suicide attempts in Syria.
You can share this story on social media: