Bombed wedding: Surviving bride & groom re-admitted to hospital in Tukey (VIDEO)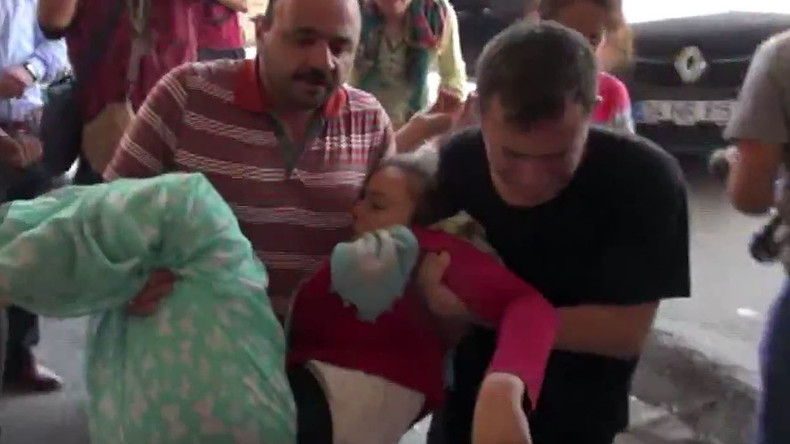 Surviving after their wedding was targeted by a suicide bomber in the Turkish town of Gaziantep, the bride and her groom were re-admitted to hospital Sunday, a footage showed.
The video shows the groom sitting and crying next to the entrance of their house, which is full of shattered glass inside. His fainting bride is then carried out of the house and taken to the car. The two were transported to the Gaziantep Medical Faculty Hospital, according to RT sister news agency Ruptly.
The predominantly Kurdish wedding in the Turkish city of Gaziantep, close to the border with Syria, was targeted by a suspected suicide bomber on Saturday as the party was breaking up. According to the latest figures 51 people died, including a three-month old baby. Around 70 more were injured as a result of the attack that appears to be the deadliest in Turkey over the recent period.
"During the explosion, the neighbor died on top of me. I remember being underneath. If my neighbor hadn't fallen on top of me, I would have died," one of the wounded attendees of the ceremony is being quoted by Lebanon's the Daily Star.
Read more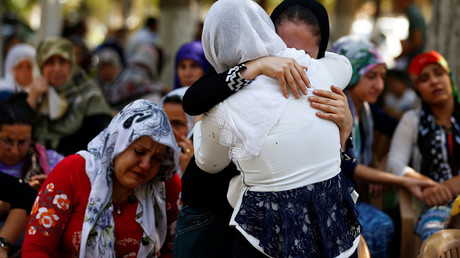 The bride and groom were initially admitted to the hospital with minor injuries and later released, before being re-admitted to the facility on Sunday.
"They turned our wedding into a bloodbath," the bride said after released from the hospital for the first time, state-run Anadolu agency reported.
Turkish President Recep Tayyip Erdogan said the assault was a suicide attack committed by a teenager aged between 12 and 14. The leader also blamed Islamic State (IS, formerly known as ISIS/ISIL) for the atrocity calling it a "heinous" bombing.
On Sunday crowds paid last respects to the deceased during the bombing in Gaziantep.
Turkey has witnessed a series of attacks in the past months, with officials putting the blame either on ISIS or Kurdistan's Worker's Party, whom it considers terrorists.
The latest terrorist assault dates back to June 28 when three attackers launched suicide bombings and a shootout at Istanbul's Ataturk Airport. 45 people were killed and some 230 injured in the massacre. All three assailants also died as a result. Turkish officials said the assault was masterminded by Islamic State.