Smoke 'em out: Israeli soldiers toss grenade at Palestinians in unprovoked attack (VIDEO)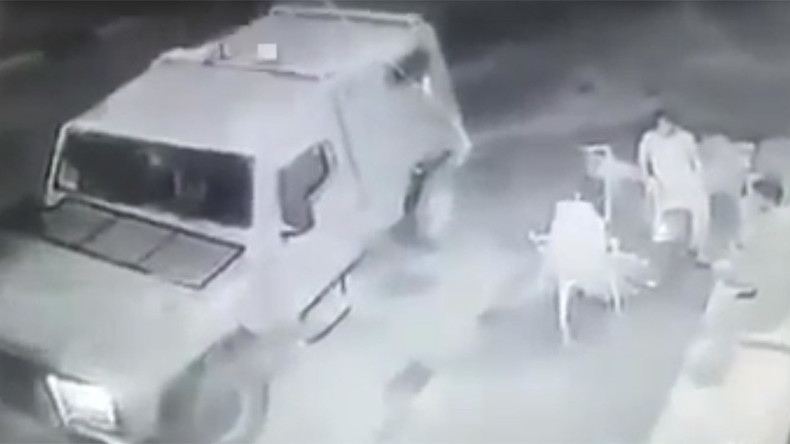 Israeli troops are under investigation after footage emerged of soldiers throwing a smoke grenade at a group of young Palestinian men sitting outside a shop in the West Bank city of Ramallah.
The security camera footage, which was released by Palestinian news outlet Ramallah News on Tuesday, shows a military jeep pulling up beside the group of civilians.
In a matter of seconds, the Israeli Defense Forces (IDF) vehicle pulls away from the men and before it goes out of frame, an object is thrown at the Palestinians in an unprovoked attack.
The civilians panic and knock over chairs as they run to escape before the grenade explodes into a burst of light and smoke.
The IDF said "the event is being reviewed" to find out which soldiers were involved in the incident, according to the Times of Israel.
The latest incident comes only weeks after two armed Israeli officer confiscated the bike of a Palestinian girl in Hebron.
READ MORE: Armed Israeli Border Police bully 8-yo Palestinian girl, confiscate bike (VIDEO)
The Israeli Justice Ministry's Police Investigations Department decided not to press charges against the two troops.