Plumes of smoke at Singapore underground train station, commuters rushing out (PHOTOS, VIDEOS)
Published time: 15 Aug, 2016 08:32
Edited time: 15 Aug, 2016 11:11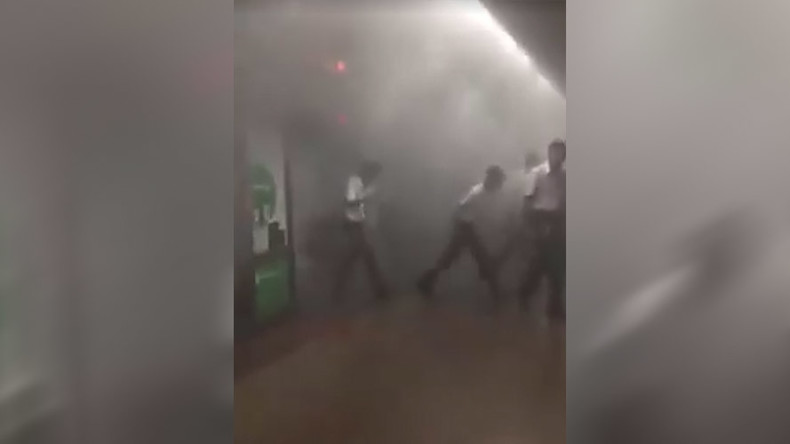 A Singapore underground station filled with thick grey smoke as commuters rushed out, covering their noses, photos posted on social media show.
The incident took place at Tanjong Pagar Station, an underground Mass Rapid Transit station on the East West Line, Channel News Asia reports.
Several commuters wrote on social media that the smoke appeared when the train doors opened. Some users on Twitter were writing to SMRT Corporation, a public transport operator in Singapore, asking for an explanation.
"@SMRT_Singapore May I know what's the reason for a heavy smoke down at Tanjong Pagar," asked @CurlyPekjal user on Twitter.
"@SMRT_Singapore Singapore train 3067 very hot inside. We are at cabin 24 and it's very hot," added another user dubbed @Verceles1984.
The Tanjong Pagar MRT Station opened in 1987 and serves mostly those working in central business districts in the Shenton Way and Robinson Road areas.
SMRT said in a statement that the gas was "odourless" and that its staff had "switched on the tunnel ventilation system immediately."
The company later confirmed that it was a leak of freon gas from the train's air-conditioning system.
The Singapore Police Force said no one was injured, adding that the train had been towed to Ulu Pandan Depot for inspection.
"I was headed to Clementi. When we reached Tanjong Pagar, there was thick smoke filling the cabin. So the passengers rushed out," Jeremy Tan, 25, told Channel News Asia.
One more commuter added that the police on train duty "started to usher people up."
"The pungent smoke lingered in the station but as the initially evacuated train left the platform, the next train came and everyone boarded it and I did too. The smoke continued to come from the front of the train for the next few stops," she said.