Severed body parts in trash bags and iceboxes dropped near Mexican govt buildings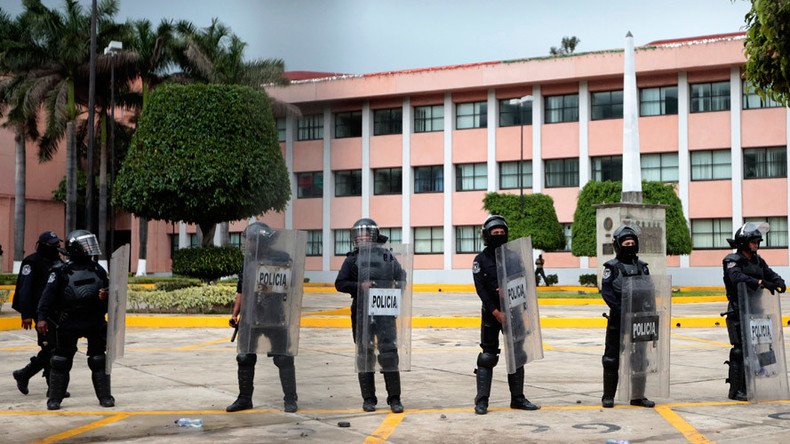 Three dismembered bodies placed in trash bags were discovered in front of Mexican government buildings in the southwestern state of Guerrero, while iceboxes with severed heads were placed nearby. The disturbing find has been linked to infamous gang wars.
The body parts were all inside big garbage bags and purposefully placed in front of local government buildings on Sunday morning local time. Later in the day, Mexico's police found three iceboxes in front of another building nearby. Each box contained a severed head inside, presumably from the same three bodies.
The severed body parts were reportedly placed there by one of the Mexican criminal gangs, known as Los Jefes, or The Bosses.
One of the boxes reportedly had a note inside. It issued threats to another local gang, which allegedly deals with extortion and carjacking.
Police have not yet been able to identify the bodies.
Chilpancingo is the capital of Guerrero, which is a state known for its drug-related gang violence.
One of the most recent and best covered cases from Guerrero was 43 students disappearing in Guerrero back in 2014. Later, it was discovered that the students were kidnapped by police, were passed onto to a local gang and then killed.
READ MORE: 'Where are our boys?' Thousands rally in Mexico 1 year after 43 students kidnapped in Iguala
An independent report on the investigation said that the Mexican Federal Police was implicated in the alleged massacre and the federal government was aware of the situation.
Iguala's mayor and millionaire businessman José Luis Abarca Velázquez and his wife Maria de los Angeles Pineda Villa were arrested for their involvement in the incident. Independent investigators, however, allege that the two directly ordered the attack on the students.
The kidnapping of the students happened when several buses were heading south from the Mexican city of Iguala were attacked by the local police. The students on the bus were from Ayotzinapa Rural Teachers' College and had just participated in a protest against discriminative government hiring and financing practices.
You can share this story on social media: