Russian long-range bombers destroy ISIS command centers, manpower in Deir ez-Zor, Syria (VIDEO)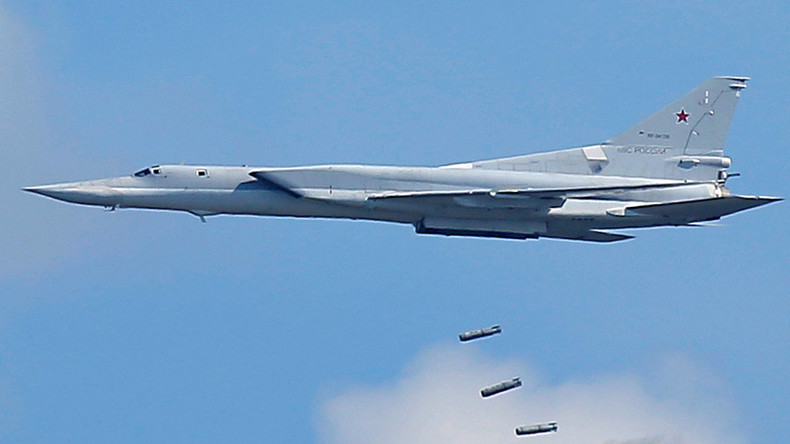 Six Russian Tu-22M3 long-range bombers have hit Islamic State positions outside the Syrian city of Deir ez-Zor, destroying command centers, ammunition depots, and numerous tanks, while decimating the terrorists' manpower, the Defense Ministry said.
"[The bombers] which took off from a Russian air base have conducted a concentrated airstrike with high-explosive munitions on IS in areas located southwest, east, and northeast of the city of Deir ez-Zor," the ministry's Sunday statement said.
The airstrike destroyed two Islamic State (IS, formerly ISIS/ISIL) command centers, six large ammunition depots, two tanks, four infantry fighting vehicles, seven SUVs with mounted machine guns, and also decimated the terrorist group's manpower.
The Tu-22M3s bombers (NATO reporting name Blinder) were covered by Su-30SM and Su-35S fighter jets operating from Khmeimim air base, and all of the warplanes returned safely, the ministry added.
Russian bombers destroy ISIS chemical weapons plant near Raqqa, Syria

Earlier this week, long-range Russian bombers carried out airstrikes in Syria that destroyed IS targets near Palmyra and the settlements of Es Sukhne and Arak.
Those air raids destroyed a terrorist control center, an underground munitions and weaponry dump, fighting infantry vehicles, and off-roaders mounted with heavy machine guns, along with a large number of enemy personnel.
Russia's anti-Islamic State operation in Syria largely wound down in March, although considerable military assets were left in place to support Syrian government forces fighting terrorist groups.
Moscow has also proposed to the US that the two countries coordinate their struggle with terrorists in Syria, but no response has been received so far, though there were negotiations on what form such cooperation might take earlier in July.
You can share this story on social media: