Violent Corsica brawl: 4 injured, cars burnt in clashes between locals & N. Africans (VIDEO, PHOTOS)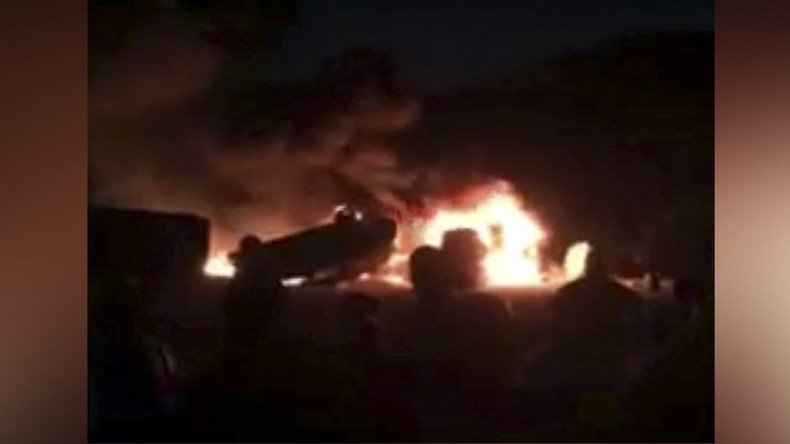 At least four people, including a pregnant woman, were injured in a violent brawl between locals and "foreigners," presumably from North Africa, on the island of Corsica, French media reports. Some 100 police officers had to be deployed to calm the situation.
The brawl broke out in the Sisco commune of France's Haute-Corse department on Saturday evening, France 3 Corsica reported.
France 3 Corsica cited local witnesses who claimed that a spat began when some tourists took a picture of a group of ten North Africans, including a pregnant woman and children, who were sitting on a beach. The North Africans made it clear that they didn't want to be photographed, but then a group of Corsicans arrived and also started a discussion that escalated into a confrontation.
The paper reported that three vehicles belonging to young people of North African origin had been burned in the encounter.
Some 40 Corsicans attacked the members of two Moroccan families that were living on the island, according to BFMTV. Stones and bottles were reportedly thrown at the Moroccans and three of their vehicles were burned, the channel said. The cause of the brawl has yet to be determined, French media said.
The French Interior Ministry later confirmed that the incident had taken place, but didn't specify the nationality of the people attacked, simply calling them "foreigners."
"Four people injured, including a pregnant woman, were evacuated to the hospital in Bastia," the ministry said in a statement, adding that "three vehicles were burned, causing severe traffic disruption."
The ministry said that some 100 police officers had been dispatched to the scene to bring the situation under control.
France 3 Corsica put the number of people injured in the brawl at five, two of whom were Corsicans and three of North African origin. In addition to the pregnant woman, the injured included one more woman, a child, and a man. BFMTV reported, citing its sources.
French Interior Minister Bernard Cazeneuve said that he was calling for an investigation into the incident, while urging everyone to stay "calm" and maintain "a sense of responsibility."
You can share this story on social media: