'Legalization is in the air': Thousands rally in Berlin calling for legal pot in Germany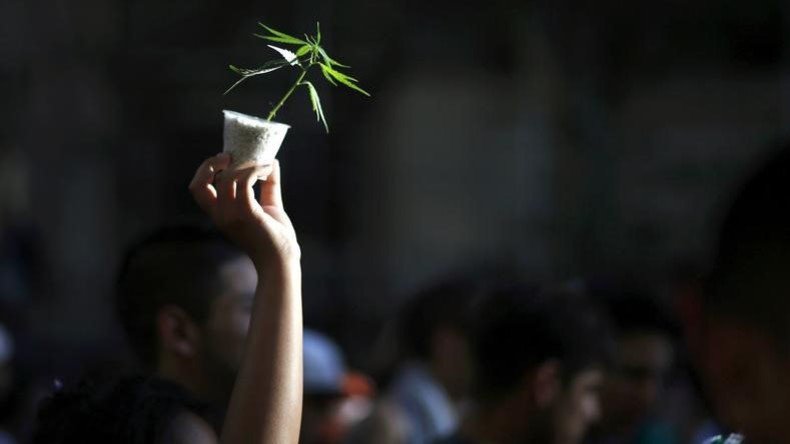 Some 4,000 supporters of marijuana legalization in Germany rolled through central Berlin. Demonstrators called on the government to allow marijuana for a broader medical use and stop prosecution for its possession.
According to police figures, some 4,000 people took part in Saturday's rally with no incidents or arrests reported. The crowds initially gathered at the central railway station before moving to the federal Health Ministry and then to the iconic Alexanderplatz.
"The marijuana parade is the largest demonstration for the legalization of Cannabis as commodity, medicine, and natural stimulant in Germany," the organizers wrote on their website. The latest march was staged under the slogan "Legalization is in the air" and was the 20th in a row after the movement was established in Berlin in 1997.
People carried banners saying, "My brain belongs to me," and "Cannabis is my medicine."
The spokesperson for the parade, Steffen Geyer, said in front of the gathering that the ban on the drug is leading to more problems and therefore requires a law legalizing it. "Legal cannabis would cause less harm if compared to the ban on it existing for 45 years," Geyer stated.
The statement was echoed by Hans Strobele, a German MP who is a staunch supporter of cannabis legalization. "The legalization will come, the question is only when," he told the crowds.
"One can abuse anything from coffee and cigarettes to alcohol. It is therefore important to provide a legal basis for such drugs," one attendant of the march was quoted as saying by Berliner Zeitung.
Marijuana is illegal under the German law, but small amounts of it are sometimes tolerated by police. German law enforcers cited 70 percent of all drug law violations in 2015 as linked to cannabis use or production, BZ writes, citing police. It adds that some 24,000 Berliners consume it on a daily basis.
Defying the illegal status of the pot, some demonstrators were seen carrying placards that read: "We aren't criminals, we're gardeners."
After some 20 years of battle for the legalization of marijuana, its supporters claim they are witnessing positive results. "We see from day to day that we are succeeding," Steffen Geyer was quoted as saying by BZ-Berlin. He referred to the recent proposal by the German Health Minister to allow pot for severely ill patients. "That was unimaginable for or six years ago," Geyer added.

Marijuana is legal for medical use in more than half of US states. It for example used to increase appetite of AIDS patients. However according to the US National Institute on Drug Abuse (NIDA) the overdose of the weed can cause breathing problems, increased heart rate and even lead to schizophrenia.
You can share this story on social media: