Kurdish protesters in peaceful takeover of German broadcaster to highlight suffering in S.E Turkey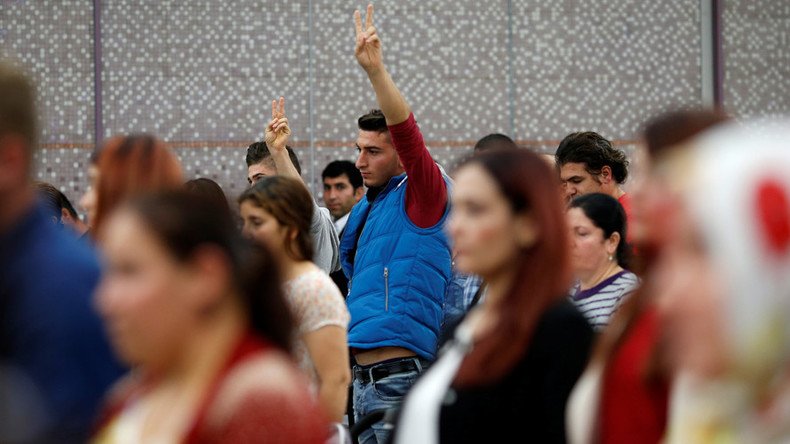 Around 30 Kurdish activists took part in a peaceful protest at a regional WRD television station in the German city of Duesseldorf on Thursday night. The demonstrators were trying to draw attention to the plight of Kurds in Turkey.
Police said that the group entered the studios of West German Broadcasting (WDR) on Thursday night and proceeded to occupy the building for a couple of hours, according to the DPA news agency.
A spokesman for the broadcaster said that the demonstrators could be heard chanting loudly in Kurdish, while they also had posters with them. They were trying to bring attention to the current political situation in Turkey and also the suffering endured by Kurds in the southeast of Turkey.
The group eventually left peacefully after being asked to do so by a WDR employee. There were no injuries during the protest.
This is not the first time Kurdish protesters in Germany have stormed a broadcasting center to try and make their point known. In 2014, around 60 demonstrators forced their way into Deutsche Welle's building in Bonn, where they presented a resolution to the media outlet which called for greater attention to be paid to the plight of Kurds in Kobani, following the advancement of Islamic State (IS, formerly ISIS/ISIL).
Meanwhile, in April, dozens of pro-Kurdish demonstrators held a rally outside the Chancellery building in Berlin in protest at Chancellor Angela Merkel's compliance with Turkish President Recep Tayyip Erdogan.
"Human rights, Mrs Merkel, are not up for negotiation. We are angry because you appoint a dictator as an accomplice due to your own lack of ideas, inconsistency and cowardice," said Bruno Kramm, the head of the Berlin branch of Germany's Pirate Party, which also took part in the rally.
In June, a group of German politicians and public figures filed a lawsuit against Erdogan after they accused him of committing war crimes in the southeast of Turkey against the Kurdish population.
The document, which was 200 pages long, focused particularly on alleged crimes in the city of Cizre. In February, 178 civilians were killed there, including members of the public being slaughtered in basements in which they were trapped. In March, RT highlighted this situation in a series of reports and began a petition calling for the UN to investigate the human rights abuses.
At the time, Russian Foreign Minister Sergey Lavrov said during a press conference with his German counterpart, Frank-Walter Steinmeier, that Moscow had raised the issue with the UN.
"We have voiced grave concern over the report presented [by RT], and in line with your appeals to non-governmental and legal structures, we likewise alerted the UN High Commissioner for Human Rights to the matter," Lavrov said.
A two-and-a-half-year ceasefire between the Turkish government and the Kurdistan Workers' Party (PKK), which Ankara says is a terrorist organization, collapsed in July 2015. Since then, thousands of Kurdish fighters and hundreds of Turkish soldiers have been killed in the violence. Human rights groups say hundreds of civilians have died as well, according to Reuters.
You can share this story on social media: