New bomb attacks kill at least 4 in Thailand, reports of many injured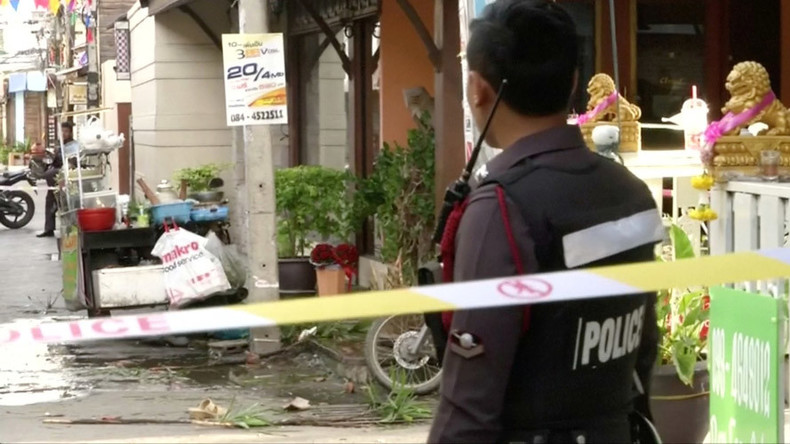 A string of explosions early on Friday rocked Thai resort towns of Surat Thani and the earlier attacked Hua Hin, where dozens of foreign tourists had been targeted. At least four people have reportedly been killed and "many" injured in the new spate of violence.
READ MORE: 2 explosions hit Thailand's Hua Hin resort town, 1 killed, 23 injured incl. foreigners – reports
One of the blasts took place outside Surat Thani police station on Friday morning, following festivities dedicated to the Queen's Birthday / Mother's Day celebrations in Thailand.
Wongsiri Promchana, governor of Surat Thani province, was cited by AFP as saying that the explosive device was planted in a flowerbed near the marine police station and killed a local municipal employee.
"I think it's related to the blasts in Hua Hin," the governor said.
Another explosion rocked the Loma Park area, located on Phuket Island, popular with tourists, the Sydney Morning Herald reports. Reports are coming of a second explosion on Patong's beach road, also near a police station.
One explosive device was then defused by police in Phuket.
"A bomb was planted in the Loma beach area," a law enforcement source said, as cited by TASS.
Three new blasts rocked the resort of Hua Hin, killing one person and injuring at least four others early Friday, according to local media reports. On Thursday, two earlier blasts hit the resort, killing a woman and injuring over 20 people.
According to Reuters, citing police, two men were detained for questioning related to the explosions.
According to Thai police, the blasts were acts of local sabotage, and not linked to Islamic terrorism.
It is unclear whether the coordinated explosions were related to an insurgency in Muslim-majority provinces in southern Thailand, deputy police spokesman Piyaphand Pingmuang said, as reported by Reuters.
Police have been investigating, but have not yet found any connection to the blasts at popular tourist destinations in the south of the country.
Thai authorities had intelligence about imminent attacks ahead of a series of bombings in recent days, but did not have precise information on when and where the attacks would take place, Thai police Chief Jaktip Chaijinda said, according to Reuters.
Improvised explosive devices and firebombs were used in attacks in seven Thai provinces from Sunday to Friday, Chaijinda told reporters in Bangkok.
Police said they have arrested first suspects linked to the blasts, Sputnik news agency reported.
Thai authorities published a list of 10 foreigners injured in Thursday's blasts in Hua Hin, including Austrian, UK, Dutch, German and Italian nationals.
"The victims are being treated in three of Hua Hin's hospitals," said a local law enforcement source.
In the wake of multiple bomb attacks on Thursday and Friday, Thai Prime Minister Prayut Chan-o-cha ordered the tightening of security in the most vulnerable tourist areas.
"The PM has issued emergency orders to the relevant agencies in the areas to prevent other bombing incident from happening again, increase the security in the crowded areas," said government spokesman Maj-General Sansern Kaewkamnerd, as cited by Thailand's The Nation.
He noted that at the moment it is too early to draw conclusions on who could be behind the attacks, calling on the citizens to alert police on anything they deem suspicious.
A major fire engulfed the department store in the southern Trang province. The store's security guard reportedly heard the sounds of blasts and smelt smoke coming from the Leemart superstore on Friday morning, according to the Nation. The firefighters are trying to contain the fire. The store was reportedly closed at the moment of the incident. On Thursday, a town market in Trang was bombed, killing one and injuring seven others.
Two bombs went off in another southern Thai province, Phang Nga, on Friday, local TV reported, citing Thailand's permanent secretary of the Interior Ministry.