Brain-controlled robotics breakthrough sees paralysed patients regain mobility (VIDEOS)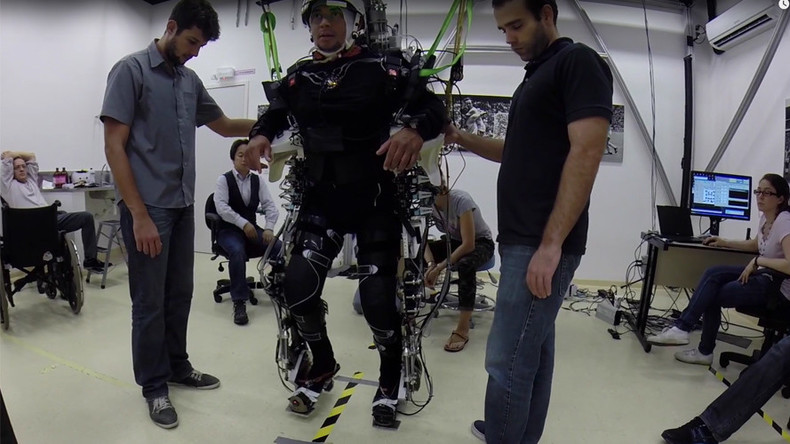 Eight paraplegic patients have made the first steps towards regaining their ability to move and sense of touch after undergoing a year of brain-controlled robot training.
The patients, paralysed by severe spinal injuries, were participants of the Walk Again Project set up in Sao Paulo, Brazil, studying the potential of brain controlled robotics and virtual reality (VR) devices in motor rehabilitation.
"We never predicted that by having patients interacting with these devices over a long period we might induce significant neurological recovery, including sensory, motor, and visceral improvements," said Miguel Nicolelis, director of the Duke University Center for Neuroengineering and principal researcher on the project.
The brain-machine interface consists of multiple EEG-recording electrodes embedded in a cap on the patients' scalps, placed over the brain areas controlling movement, and a special "tactile shirt" recording patients' movements.
The study participants operated a brain-controlled motorized exoskeleton and used a 'Lokomat' robotic gait brace. Patients were also shown a VR 3D avatar and asked to imagine movements of their own bodies so that they could make the avatar walk.
The clinical report, examining the findings of the first year of training from January to December 2014, was published in Scientific Reports on Thursday. It is the first clinical study to report neurological improvement in paraplegic patients after the use of brain machine interfaces.
The trial patients had all been diagnosed as complete paraplegics for three to 13 years due to a severe spinal cord injury. They showed no clinical improvement with traditional rehabilitation and no movement below their spinal injury.
After a year in the program, the diagnoses of four patients was changed from complete to partial paralysis after a significant shift in sensation and muscle control over that period. Most patients also saw improvements in their bladder control and bowel function, according to the study.
A 32 year-old female patient paralysed for 13 years experienced the most dramatic changes, according to Nicolelis. At the start of the trial she was unable to stand using braces but 13 months in, she was able to move her legs voluntarily with the support of a harness.
Nicolelis and the team believe that some of the spinal nerves remained intact after the patients' injuries, but these nerves were lying dormant.
"Over time, training with the brain-machine interface could have rekindled these nerves," he said. "It may be a small number of fibers that remain, but this may be enough to convey signals from the motor cortical area of the brain to the spinal cord."
The patients are continuing to undergo training and a second report will be published on their progress since December 2014 up until May 2016.