Russia's Black Sea Fleet holds drills to counter underwater sabotage after foiled Crimea attack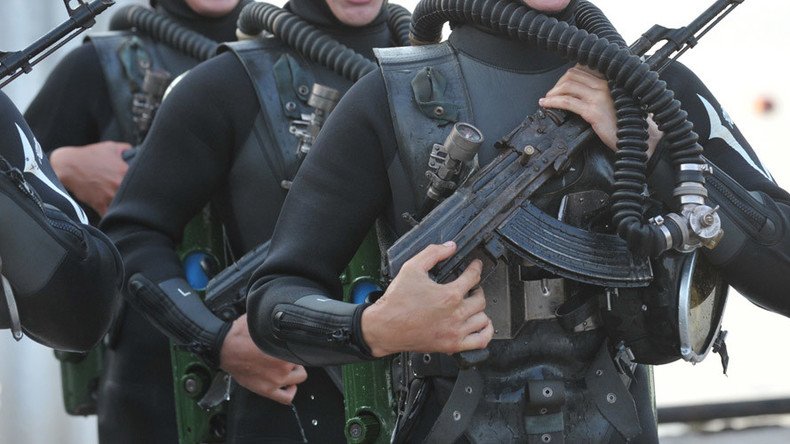 Russia's Black Sea Fleet command has announced three-day anti-sabotage drills to counter potential underwater attacks on naval installations. This comes after the Russian security service said it foiled a terrorist attack on Crimea from Ukrainian territory.
The training, conducted as part of broader military drills named Kavkaz-2016, "will repel an attack of underwater saboteurs from the sea on the Black Sea Fleet's home base," the fleet's command said in a media statement.
More than 10 warships, MI-8 and Ka-27PS helicopters are taking part in the training. The crews of the ships will perform counterterrorist activities, minesweeping and search and rescue operations out at sea. They will also rehearse operating with terrestrial navigation aids disabled, using hydrographical services for temporary navigation references.
President Vladimir Putin discussed additional security measures taken in the Crimea Peninsula with members of Russia's Security Council.
The conference focused on measures to maintain security of the Crimea Republic on the border with Ukraine, in the peninsula's territorial waters and airspace, the Kremlin's press service reported on Thursday.
On Wednesday, August 10, the Russian Federal Security Service (FSB) reported it had foiled terrorist attacks in Crimea that had been planned by the Ukrainian Defense Ministry's intelligence agency.
A group of infiltrators was discovered in northern Crimea near the Ukrainian border over the weekend. The agency said there was an exchange of gunfire as the terrorists were being apprehended. One FSB officer was killed, while at least one infiltrator was shot dead and several others injured when the officers returned fire.
Two more attempts by Ukrainian raiding and terrorist groups to break through were prevented by Russian forces on Monday. Kiev's armored vehicles provided covering fire for the groups from the Ukrainian side, the FSB said, adding that one Russian serviceman was killed in that operation.
Several subversives were captured inside Crimea later on, exposing the involvement of the Main Directorate of Intelligence of the Ministry of Defense of Ukraine (HUR MOU) in the attack on the Russian region.
The infiltrators planned a series of terrorist acts on the territory of the Crimea Peninsula, targeting infrastructure facilities with homemade bombs.
Kiev has turned to the "practice of terrorism" instead of trying to peacefully resolve Ukraine's crisis, President Putin said.
With Ukrainian intelligence plotting terrorist attacks in Crimea, Kiev is "playing a dangerous game," the Russian leader said when talking to reporters on Wednesday, while calling Kiev's actions "stupid and criminal."
You can share this story on social media: