Nearly 7,000 terrorists mass near Aleppo as Moscow brokers humanitarian ceasefires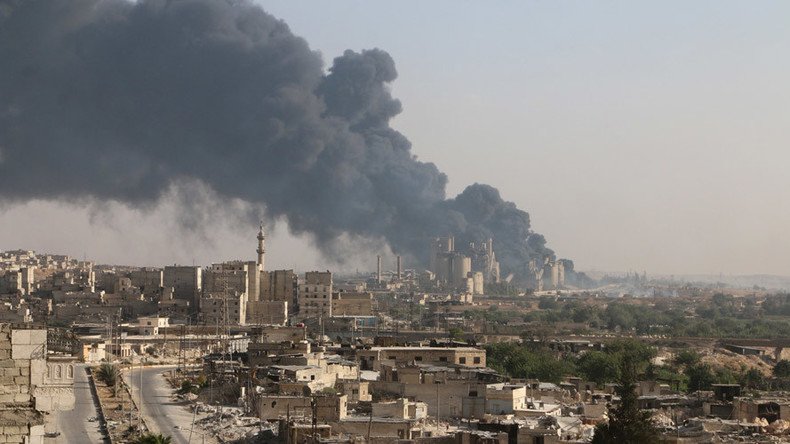 Nearly 7,000 heavy armored terrorists have taken positions southeast of the key Syrian city of Aleppo, the Russian Defense Ministry says. The build-up comes as Moscow brokers a three-hour daily truce for the embattled city.
"The most alarming situation has unfolded in the southwest outskirts of Aleppo," Lieutenant General Sergey Rudskoy, chief of the main operations department of the Russian General Staff, told reporters on Wednesday.
"Terrorists amassed to a unit of some 7,000 fighters, armed with tanks, armored personnel carriers, artillery and trucks with weapons mounted on them," Rudskoy said. The groups of terrorists are getting reinforcements from neighboring territories. "Militants are pulling their troops from the controlled areas in the provinces of Idlib, Homs and Hama," Rudskoy said.
On Wednesday, terrorists shelled residential areas in Aleppo's southwestern neighborhood of Hamdania, Syrian news agency SANA reports. According to the outlet, 13 civilians died with a number of people injured. Government forces have been engaged in fierce fighting with the terrorists in the area in the past four days.
Since Sunday "nearly 1,000 militants were killed and over 2,000 injured," the Russian General Staff told media. The operation was backed by the Russian Air force, targeting the positions of insurgents and their supply routes around Aleppo.
Some of the terrorist groups tried to flee using a "safe" corridor, Rudskoy added. In the end of July special humanitarian routes for civilians around Aleppo were established by the Russian Reconciliation Center and Syrian forces.
Those civilians remaining are facing a dire humanitarian situation. To facilitate the escape of civilians, Moscow on Wednesday proposed daily three-hour ceasefires for humanitarian corridors in the city. According to Rudskoy, it is due to take effect starting August 11 from 10 am to 1 pm local time.
Earlier, the move was welcomed by the United Nations aid chief Stephen O'Brien. "At all times I will look at any kind of suggestion which enables humanitarian aid to be delivered," he said, calling for a larger 48-hour ceasefire. According to Rudskoy this option as well as the possibility of joint humanitarian convoys for Aleppo is being discussed with the UN.
During the latest press briefing, US State Department spokesperson Elizabeth Trudeau also voiced her backing of "any pause" in the fighting for aid to reach Aleppo.
Since the establishing of humanitarian corridors on July 28, some "50 tons of food, basic necessities, medicine as well as 93 tons of water" were supplied to Aleppo, Rudskoy stated on Wednesday.
The aid mission however got into the crosshairs of armed militants operating near Aleppo province. On August 1 a Russian Mi-8 transport helicopter was downed while coming back from a humanitarian aid mission to Aleppo. The incident happened as the chopper was flying over the neighboring Idlib province. Three crew members and two officers onboard died.
Following the incident, Sergey Rudskoy said that terrorists from Al-Nusra Front but also forces seen as "moderate opposition" by Washington are operating in the area.
You can share this story on social media: