'We know about Fukushima': Thousands rally in China over nuclear project fears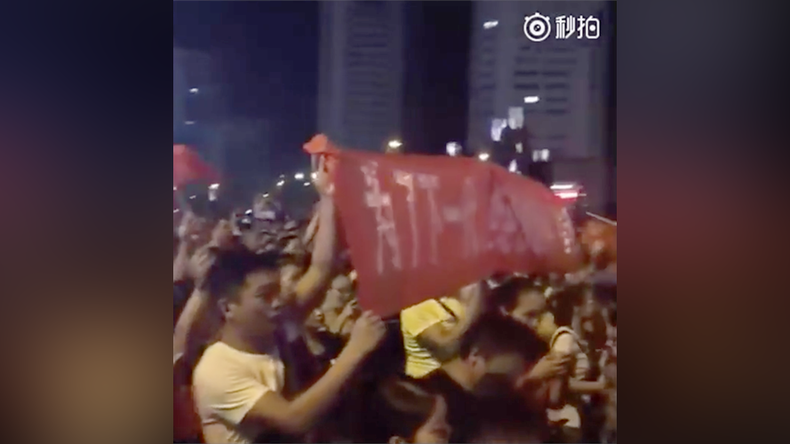 Thousands of people have taken to the streets of Lianyungang, China, to protest against a possible French-Chinese nuclear project, according to local media. Clashes have been reported between police and demonstrators.
Photos and videos on social media show crowds of people shouting slogans and waving banners.
"There were several thousand people," a hotel worker told AFP on condition of anonymity.
"Building a nuclear waste processing plant in Lianyungang is a recipe for disaster for future generations, local people have a right to express anger," another witness said.
Pictures also show demonstrators surrounded by police. A local resident identified as Xu described "clashes between police and protesters."
Rumors have emerged that one of the activists was beaten to death. Police have denied those reports, and also said that officers have not clashed with demonstrators.
The protest was staged over an agreement between French nuclear fuel group Areva and China National Nuclear Corp (CNNC), which took place in 2012. The companies agreed to build a reprocessing facility in China, but didn't elaborate on the location.
But Lianyungang residents fear the plant will be constructed in their city, as China National Nuclear Corp (CNNC) is currently building a nuclear object nearby, AFP reported.
"The government kept the project a secret. People only found out about it recently. That's why most people are worried," local resident Sheng told The Financial Times. "Some speculate that the nuclear waste is from other countries and do not understand why the project should be built here instead of over there if it's as safe and beneficial as they say."
Lianyungang is also situated near the Tianwan Nuclear Power Plant, built by Russia in 2006. The site is set to become one of the biggest nuclear power plants in China, with two operational units and six additional units planned.
"We already have a chemical industrial park in Lianyungang and the pollution problem is quite worrying. Nuclear waste is far worse than normal chemical pollution," local shop owner He told The Financial Times. "Also, we all know what happened to Fukushima in Japan after the nuclear accident. We are really worried."
Lianyungang, a port city in Jiangsu province, eastern China, has a population of around five million people. It is located some 480 kilometers (298 miles) north of Shanghai.
You can share this story on social media: