Holy Mass & protest at Paris church set for demolition to create 'parking lot' (PHOTOS, VIDEO)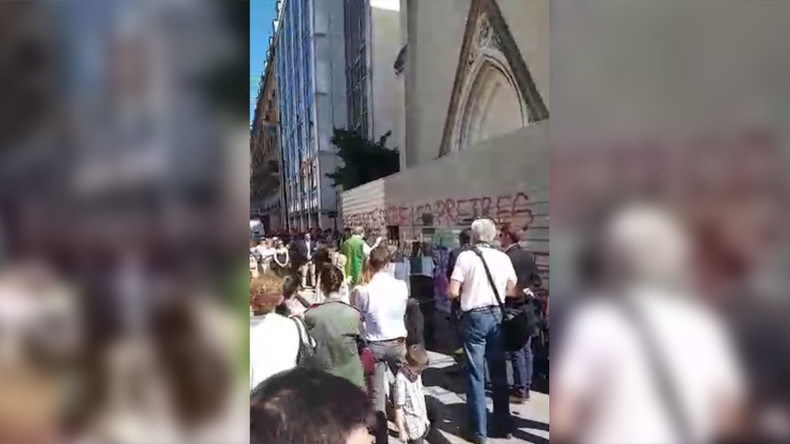 Dozens of people are taking part in a Mass in front of the Church of Saint Rita in Paris' 15th district. The place of worship is set to be demolished within the next few days.
The church has been officially closed since last year, while in October 2015, it was decided that the place of worship should be demolished. However, Saint Rita has been operational and has been serving a new Catholic parish association.
READ MORE: Church demolition: Police quash Paris protest over 'parking lot', day after slain priest's funeral
A hefty sum of €3 million ($3.3 million) is needed to save the church, according to France TV Info. The owner of the property sold it after he could not pay the rent.
However, local priests say they have nowhere to go if the place of worship is destroyed.
"For the moment, no one has offered me anything else. We hold marriages, baptisms and all sorts of ceremonies regularly. We can't leave just like this, if no one offers us anything. Otherwise, we'll celebrate services in the street," Paris's archbishop Monseigneur Dominique Philippe told France 3 broadcaster earlier in the week.
Demolition work on the church is ready to start, but the protesters, some of whom are local councilors, have refused to leave.
On Wednesday, dozens demonstrated against the demolition of the church. Photos on social media showed police dragging a priest from the church as he refused to interrupt the Mass he was holding.
Members of the congregation and activists from the Parish Defense Association announced that a Mass would take place on August 7 at 11:00 local time, which was approved by the authorities.