Gang rape videos on sale in India as sex crimes against women soar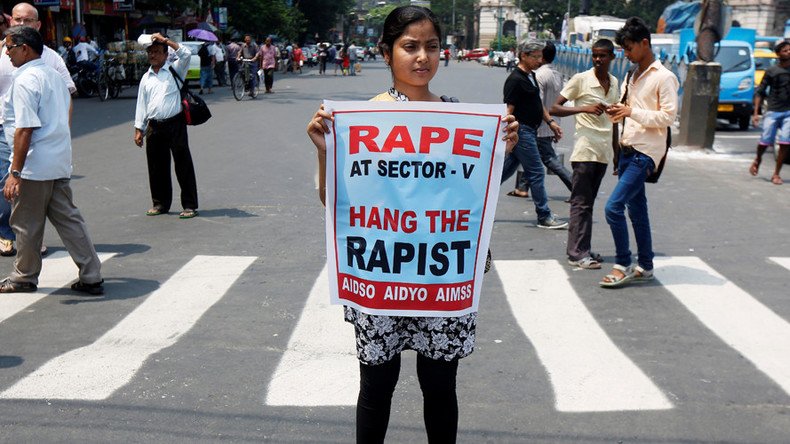 Shops in the northern Indian state of Uttar Pradesh provide their customers not only with basic goods, but also with graphic gang rape videos. The state's recent increase in sexual assaults has outraged the public and may drive the chief minister to resign.
Short clips, lasting from 30 seconds to five minutes, are downloaded directly to a customer's cell phone as soon as the content has been paid for, The Times of India reported. The prices depend on how "exclusive" a clip is and vary from 50 to 150 rupees per clip ($0.75-$2). The trade turnover is quite significant with hundreds, or even thousands, of videos being sold every day.
"We are aware. We are taking necessary action. But it is difficult, as the sales are happening below the counter," Ajay Sharma, a deputy inspector general of police in the city of Agra in Uttar Pradesh, said, according to Reuters.
As sales are under-the-table, dealers are reluctant to offer footage to new customers unless they have a reference from a trusted client.
"Porn is passe. These real life crimes are the rage," a shop owner in Agra said, according to The Times of India.
"Dealers will download videos directly into your smart phone or put them in your pen drive," he added.
The materials are sometimes taken from Twitter, Tumbler or Facebook, The Times of India said. In other cases, sex offenders shoot videos of rapes or assaults and put them online or use them as a tool to blackmail the victims.
Recently a number of horrifying gang rapes have been reported in Uttar Pradesh.
At the end of July a gang ambushed a car with a mother and a 14-year-old daughter on the Delhi-Kanpur National Highway. The women were raped for three hours while being held at gunpoint. Fifteen suspects were detained after police launched an investigation.
"The family was returning from Noida. A few miscreants tried to rob the family and then did certain indecent things. We are investigating the case further," a policeman said, according to Channel NewsAsia.
On Tuesday a teacher was gangraped in a field in broad daylight not far from linking Delhi-Lucknow National Highway 24, Indian Express reported.
Local Chief Minister Akhilesh Yadav has been in hot water ever since reports of this kind of attacks intensified with the LawlessUP hashtag and calls for his resignation trending on Twitter.
There were 337,922 reports of violent acts against women, including rape, molestation and abduction in 2014 which is nine percent more than in 2013, according to Reuters.
You can share this story on social media: