Arctic-capable: Atmospheric solar-powered SOVA drone passes tough test (VIDEO)
A prototype of an Arctic-capable solar-powered drone for monitoring and telecommunications transmissions has successfully performed a 50-hour-long test-flight in Russia. Designers are preparing a three-times-bigger version for tests later this year.
The solar powered SOVA (Owl) drone, a collaborative effort of the Tyber Company and the Advanced Research Foundation (ARF) has a nine-meter wingspan, yet weighs only 12kg.
The Advanced Research Foundation (ARF), established in fall 2012, is viewed as Russia's analogue of the US's DARPA, conducting some leading defense industry research.
Read more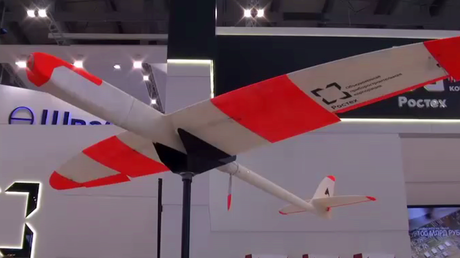 The flying wing (fixed-wing with no tail or discernible fuselage) unmanned aircraft covered with solar panels and driven by three propellers has already climbed to a 9km altitude and spent over two days up in the air.
SOVA's elastic hull is not afraid of turbulence and gusts of wind: it twists, bends – and restores the original form. The drone carries accumulators to store energy to continue flight in the dark hours, cameras, altimeter, transmitter, receiver and other sensors enabling operator to monitor and direct its flight.
"The flight tests of the solar-powered UAS have fully proven the efficiency of our technical ideas," RIA Novosti cited ARF's Deputy CEO Igor Denisov as saying. He added that flight tests of the second prototype, with a wingspan of 28 meters, is planned for September.
The second prototype is expected to be able to reach altitudes of 20km.
The SOVA project aims at developing a family of drones for super long-endurance missions, to be operated throughout Russia and even in harsh conditions above the Arctic Circle (66.5°N).
Inexpensive monitoring of the vast uninhabited territories in northerly latitude and providing telecommunication services to constantly growing number of consumers have been mentioned among top priority tasks for SOVA "atmospheric satellites."
"Russia is a sufficiently northern country, we don't enjoy much sun here, so our 'satellite' is designed to be capable of constantly operating in northern altitudes, also above the Arctic Circle, where sunlight is scarce [at certain times of the year]," Denisov said.
So far communications in the Arctic area have been established using space satellites, but this kind of communication is expensive and not always effective, particularly for real-time monitoring needs.
"A solar-powered drone can do the job cheaper and more effectively than space satellites, piloted aircrafts or fuel cell UAVs," Denisov explained.
Designing an "atmospheric satellite" flying constantly and monitoring territories up to 70°N is real today, Denisov shared, and the flight endurance of such aircraft will only be limited by durability of the electronics onboard, not the capabilities of the aircraft itself.