Terrorism wave in Germany forces Berlin to plan broad range of civil defense measures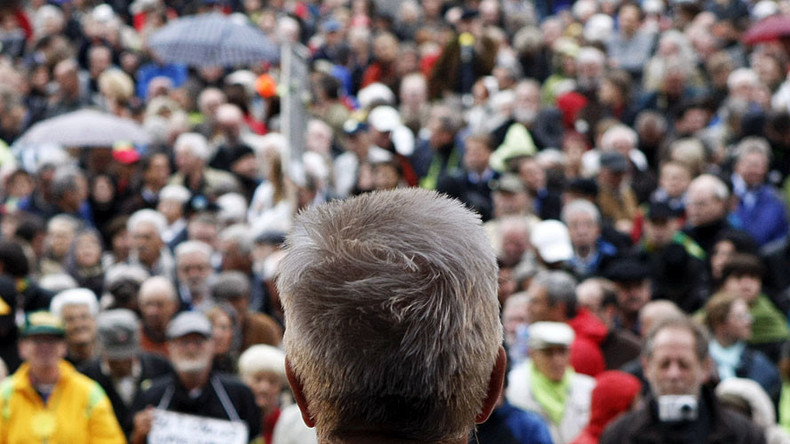 Against the backdrop of terrorist attacks that rocked Europe – and Germany in particular – in recent months, the German government is set on updating the system of national civil defense for the first time in some 20 years, Bild reported on Thursday.
Citing excerpts from the 69-page draft version of the new document which is expected to be adopted by ministers on August 24, the newspaper reports the proposed changes cover a variety of spheres, from increasing vaccine and basic supplies storage to stocking up on chemical protective suits to be distributed among the population in case of emergency.
All German municipalities will be ordered to dig special water-wells to provide a minimum supply of drinking water for their citizens for at least two weeks, as well as purchase chlorine tablets for disinfection and organize water distribution across their land.
"[Local authorities] are responsible for setting up temporary accommodation and food-distribution places," Bild quotes the paper, adding that in case of an attack (nuclear, biological or chemical) hospitals are planned to be used as "decontamination sites."
The document reportedly addresses the creation of an "own food reserve" for the federal government, as well as increasing federal reserves of drugs and medical products. Currently, there is enough in stock for 14 days.
"One hundred and forty locations must be provided with petroleum and gasoline products enough to last 90 days," an excerpt reads. Emergency supplies of electricity are also taken into consideration, with guidelines provided for regulating power distribution and minimum supply to avoid shutdowns and prioritize the use of energy.
The draft law is also said to cover civil construction. It reportedly suggests "mandatory" changes to the consistence of the building materials, used for construction of residential and commercial buildings, which will have to be "firmed" to protect the structures against explosions and toxic products.
Other issues covered in the excerpts published by Bild include protection of cultural property and self-protection capabilities of the population, like keeping a fully-stocked first-aid and medicine kit.
According to the document, in case of a direct threat to Germany's population, the federal government will assume responsibilities of the lands and will have to immediately inform the public via radio, television or sirens, as well as through text messages and the web, Bild writes.
The new law would allegedly slightly update the functions of the Technisches Hilfswerk (Federal Agency for Technical Relief) agency, or THW. It is a German organization of voluntary experts within the department of the Interior Ministry, which carries the duty of administering technical support and providing the population with basic supplies in case of emergency. Ninety-nine percent of some 85,000 of its members (the figure as of 2014) are volunteers. The draft document is said to state that if there is a threat, one third of the THW volunteers must be fully ready within 24 hours for rescue and emergency relief operations.
Last month was marred for Germany by two Islamic State (IS, formerly ISIS/ISIL)-associated terrorist attacks, and two more - with no links to the group. On July 18, a 17-year-old "unaccompanied minor" of Afghan origin armed with an ax and a knife attacked commuters on a train in Wurzburg, injuring five people and leaving 14 more in shock. The suspect was shot dead by police while trying to escape the crime scene. IS later claimed responsibility for the act.
The latest attack took place on July 24 in the Bavarian city of Ansbach, where a 27-year-old Syrian who had been rejected asylum set off an improvised bomb hidden in a backpack, which killed the bomber and injured at least 12 people.
Following the attacks, German politicians one after another started publicly admitting that "Islamist terrorism has arrived in Germany."
READ MORE: Germany mulls internal army use as top officials claim 'Islamist terror has arrived'
The news of the update to civil defense legislation comes as the next line on the list of actions lawmakers in Berlin have been dwelling upon to improve the security situation. For instance, a possibility of establishing "troops of reservists" to aid police during internal crisis situations, as well as using the German Army inside the country in cases of large-scale terror attacks are reportedly being discussed.
German officials have also been pushing for greater controls and screenings for asylum seekers.
"We need to know who is in our country," Governor of the German State of Bavaria Horst Seehofer said last week.