Raw footage shows confusion, fear inside smoke-filled Emirates plane after crash-landing (VIDEO)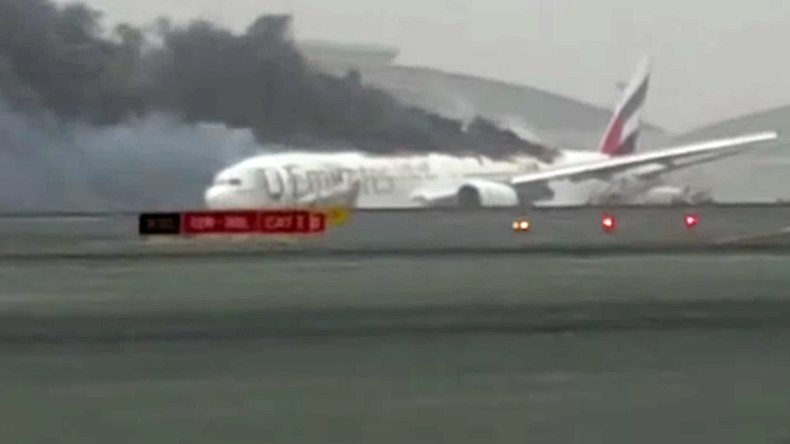 Harrowing raw footage from inside the Emirates plane that crash-landed at Dubai International Airport and burst into flames has emerged online.
None of the 282 passengers nor 18 crew members flying from Thiruvananthapuram, India, were killed in the crash, however a firefighter died while battling the blaze. Thirteen people suffered minor injuries.
READ MORE: Firefighter killed as Emirates jet engulfed in flames crash-lands in Dubai (PHOTOS, VIDEO)
The new video shows some of the passengers unloading their luggage from the overhead bins as the crowded cabin fills with smoke - seemingly unaware of the severity of the situation.
Children are crying and frightened passengers can be heard screaming as the crowd makes its way to one of the plane's emergency exits.
A sense of panic ensues once the throng reaches the exit and catches a glimpse of the Boeing 777-300's rapidly-burning engine beneath a cracked airplane wing.
Flight attendants are heard yelling at passengers to "leave your bags behind!" while instructing them to "jump and slide!" down the inflatable chute leading to the tarmac.
It is not yet known exactly what caused the crash on Wednesday, but it is believed the plane may have landed on its belly after a malfunction with its landing gear.
READ MORE: Emirates fatigue reports show UAE airlines pushing crews to limits (RT EXCLUSIVE)