11 injured as tourists mistake flash mob for terrorist attack in Spain (VIDEO)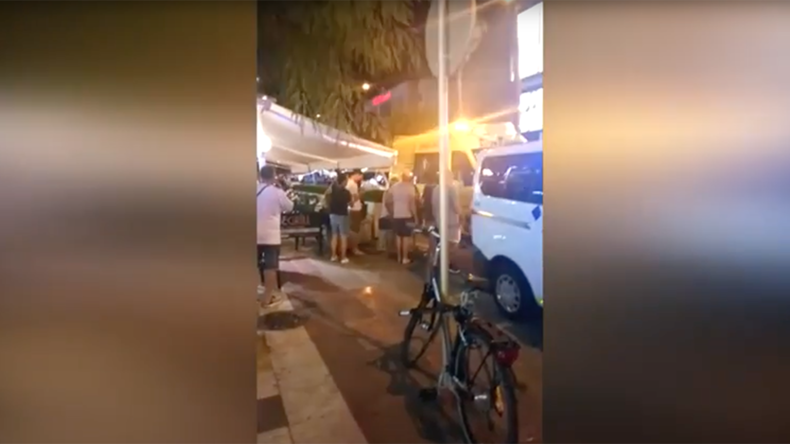 Unsuspecting vacationers in the Spanish town of Platja d'Aro thought they were caught up in a terrorist attack after a flash mob arrived at a waterfront promenade, screaming and holding what people believed to be guns. The panicked tourists ran for cover.
The flash mob, organized by German tourists, descended on a busy waterside promenade in the Catalan resort town at around 10pm local time on Tuesday, the Local reported.
The group of around 200 people soon began screaming and holding items which the tourists thought were guns.
Believing they were the victims of a terrorist attack, the tourists began running for cover, causing a stampede. Someone also shouted "they're firing!" according to L'unione Sarda.
At least 11 people were injured, and one man suffered a heart attack during the incident.
Witnesses described the panic on social media.
"My parents were there in Platja d'Aro. They were eating in a restaurant and threw themselves on the floor, taking cover under tables," said Twitter user @QuiqueGallemi.
Mis padres estan en Platja d'Aro. Estaban cenando en un restaurante y se han tirado al suelo y se han cubierto con las mesas...

— Quique Gallemí (@QuiqueGallemi) August 2, 2016
It later emerged, however, that the items being held by the flash mob were tripods – not guns – and that they were posing as paparazzi for a staged "celebrity sighting."
Local authorities urged calmness among the panicked tourists and explained that the incident was not a terror attack.
There've been relevant incidents in Platja d'Aro streets caused by flash mob that derived in stampede, it's a FALSE ALARM

— Platja d'Aro Policia (@platjaropolicia) August 2, 2016
La Vanguardia newspaper reported that the gathering was organized on social media.
Five German tourists were arrested on charges of causing public disorder. They are scheduled to appear in court on Wednesday.
Those responsible for the flash mob apologized once they realized the distress they had caused, according to Councillor Josep Maria Solé, as cited by local news station TV3.