Soldiers replace police as embassy guards in Vienna to help tackle refugee crisis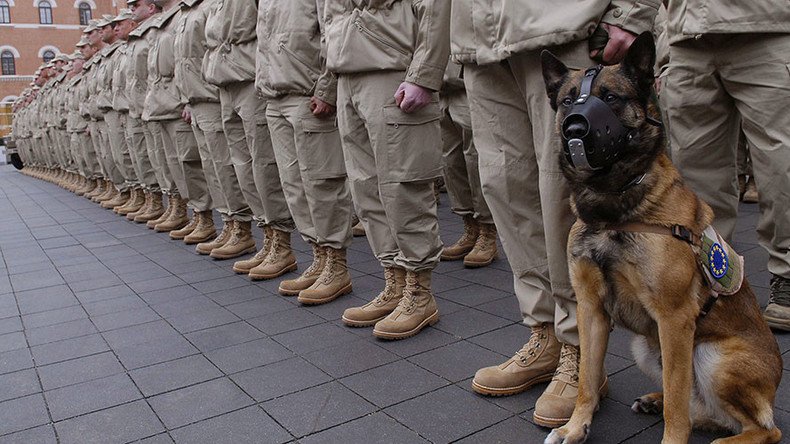 More than 100 Austrian Army soldiers have replaced police officers as embassy guards in Vienna to free up additional police forces for other duties, in particular dealing with the tense refugee situation in the country.
Starting from August 1, 110 soldiers will perform 24-hour guard duty for 24 embassies and offices of international organizations located in the Austrian capital, which were previously guarded by police, Austrian media report.
The move is aimed at freeing up officers as the police force faces a staff shortage amid the ongoing refugee crisis, Austrian Kurier daily reports. The extra officers made available by the new measure will deal with crime prevention, carry out patrol tasks, and tackle the ongoing refugee situation.
The soldiers, most of whom initially served in the 13th armored infantry battalion in the town of Ried-im-Innkreis in northern Austria, underwent a special 10-day training course before taking up their new posts. They were taught how to deal with stressful situations involving aggressive behavior as well as how to carry out everyday duties and provide first aid.
They will be equipped with a service pistol and pepper spray, just like police officers. They have the right to use force if necessary, but are not allowed to carry out ID checks or detain people on their own and must call the police in such cases, army spokesman Kurt Wagner told Austrian Wien Heute news.
"[…]They can guard objects, they can move people away and they are allowed to use force," he said.
As 110 soldiers took up their newly-assigned duties as embassy guards, 150 more applied for the training program, Kurier reports. It is yet unclear how long the army will be tasked with providing security for the embassies.
In February, Austria sent extra troops to the border to carry out checks on those arriving in the country, and also deployed units of military police across the country to stem the inflow of asylum seekers.
In January, the Austrian defense minister said that longer military service terms are required to cope with the inflows of asylum seekers. He said that if that does not happen, there may not be enough troops to patrol Austria's "green border" crossings, which lack check points, if required. At the same time, he did not specify by how long military service needs to be extended.
You can share this story on social media: