Turkey summons German charge d'affaires over refusal to show Erdogan address at Cologne rally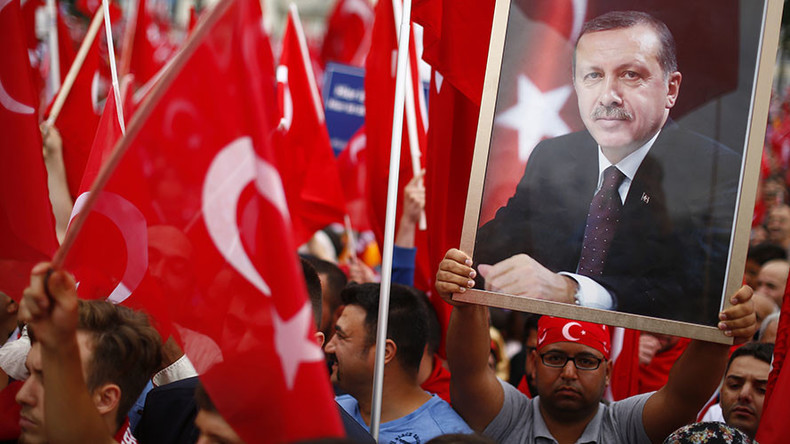 Turkey has summoned the German charge d'affaires in Ankara to explain restrictions imposed by the authorities in Germany on a pro-President Erdogan protest in Cologne.
The event in the western German city drew thousands of people, who defended Turkish President Recep Tayyip Erdogan's policies following a failed coup attempt. Turkey's Western allies criticize an ongoing crackdown on supporters of US-based cleric Fethullah Gulen, who is suspected by Turkey of masterminding the deadly coup.
Several Turkish officials attended the Cologne rally. The organizers wanted to live stream an address by Erdogan on a big screen, but local authorities prohibited it, citing security concerns.
Turkey's deputy prime minister, Numan Kurtulmuş, said the ban on Erdogan's speech was "unacceptable" and a "double standard."
The German charge d'affaires was summoned to the Turkish Foreign Ministry on Monday to discuss the ban placed on a live-stream address, the German Foreign Ministry confirmed. Berlin downplayed the development, saying the summoning was "nothing extraordinary."
"I don't think it is meant as a reprimand," Martin Schaefer, spokesman for the German Foreign Ministry told journalists.
He added that Ambassador Martin Erdmann, who heads the German diplomatic mission in Turkey, is currently on holiday, correcting earlier reports that he had been summoned by the Turks.
Relations between Turkey and Germany remain strained after the German parliament, the Bundestag, passed a resolution last month acknowledging the mass killings of Armenians in the Ottoman republic in 1915-16 as genocide of Armenian people.
Ambassador Erdmann has reportedly been given the cold shoulder since the vote and been obstructed by the Turkish Foreign Ministry and other branches of the government.
READ MORE: Erdogan dismisses 1,400 army staff, announces sweeping overhaul of Turkish military
"We have had phases in the past that were bumpy and other phases when things went extraordinarily well. Now we have a bit of a bumpy phase," Schaefer said, adding that the two countries will manage to overcome their differences.
Turkey's cooperation is crucial for the EU's plan to tackle the refugee crisis, which hit Europe last year. The unprecedented inflow of refugees, predominantly from Syria and Afghanistan, fueled sympathies for right-wing parties throughout the EU.
The refugee deal, under which Turkey agreed to take back irregular asylum seekers from Greece in exchange for visa-free travel, political preferences and financial aid, has been slow in implementation. Ankara threatens to withdraw from the agreement, unless the EU delivers on the visa promise by October. Brussels is reluctant due to harsh anti-terrorism laws in Turkey, which Ankara will not amend.
You can share this story on social media: