India sends food for 10,000 starving workers in Saudi Arabia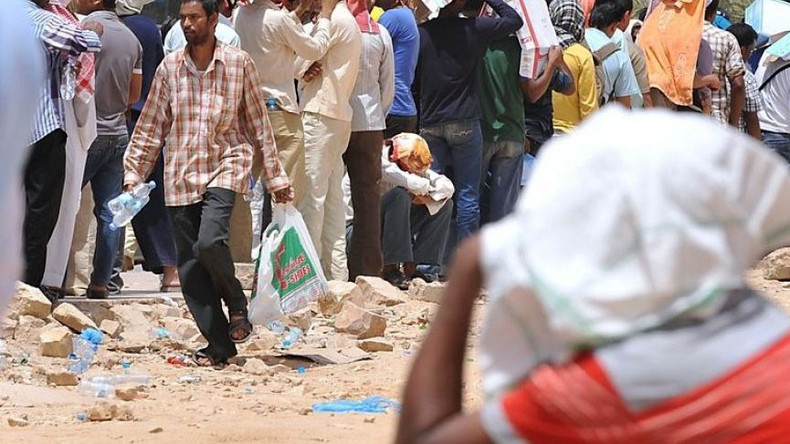 Over 10,000 starving Indian workers in Saudi Arabia have received 16,000kg of food from their own government, which was distributed in front of the India's consulate in the port city of Jeddah.
Over 10,000 Indian workers were laid off in Saudi Arabia after growth has slowed in the country, triggered by the negative effects of falling oil prices.
The workers were left without any money to buy food or travel back to India. They asked their government for help.
The desperate situation came to light after India's Foreign Minister Sushma Swaraj said "large numbers" of Indians had been laid off in Saudi Arabia.
Swaraj appealed to the Indian community on Twitter to "help your fellow brothers and sisters."
"I assure you that no Indian worker rendered unemployed in Saudi Arabia will go without food," she wrote.
Investigations into the matter revealed that thousands were starving across Saudi Arabia and Kuwait.
Swaraj told the Indian consulate in Saudi Arabia to make sure that no unemployed person starves and asked to monitor the situation on an hourly basis.
The Indian community was in charge of distributing the food supplies in the Red Sea port city of Jeddah.
India's media revealed that local company Saudi Oger had failed to pay waged to workers for seven months. It employed a total of 50,000 employees and 4,000 of them were Indians.
"For the last seven months these Indian workers of Saudi Oger were not getting their salaries and the company had also stopped providing food to these workers," confirmed Indian Consul General Mohammad Noor Rehman Sheikh.
India's government is also planning to evacuate the stranded workers from Saudi Arabia. Junior Foreign Minister VK Singh will be traveling to Saudi Arabia to kick-start the repatriation process.
You can share this story on social media: