Black book for enemies, drinking issues & 'kissing' Farage – Juncker's eccentric interview
Published time: 31 Jul, 2016 14:39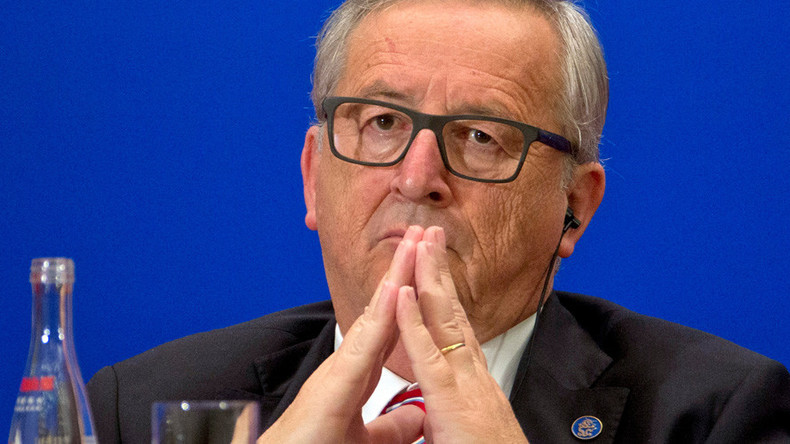 It appears that European Commission President Jean-Claude Juncker is not someone to cross as he admitted he has a black book with a list of his enemies. He also told Belgium's Le Soir that he is not an alcoholic and never kissed former UKIP leader Nigel Farage.
Juncker said that he has been updating his enemy book, dubbed Little Maurice – after a German saying – for some 30 years. There in his log, he writes the name of every single person who somehow did him harm or betrayed him.
"I've never taken revenge. I take my precautions," Juncker said, adding that he is not "rancorous" but definitely has "a good memory."
It turns out that when Juncker was Prime Minister of Luxemburg from 2008 to 2013 he used to tell people attacking him: "Be careful Little Maurice is waiting for you."
"It had a dissuasive effect," he laughed.
One more flickering issue Le Soir asked was about Juncker's alleged issues with alcohol. Asked if the rumors were false the EC president answered laconically: "Yes!"
Judging by his answer, Juncker was not drinking before he started behaving in a strangely boisterous manner at a EU summit in 2015. Social media was abuzz after he slapped several fellow leaders on the face and kissed some on the cheek. He asked another guest to bow so that he could kiss his balding head.
He also approached Hungarian Prime Minister Viktor Orban with the words: "The dictator is coming."
The EU official has long been speculated to be a heavy drinker. At the time of his nomination in 2014, the Financial Times joked: "Perhaps the next EU President could have one of those slogans on the office wall – 'You don't have to be drunk to work here, but it helps.'"
One more long-awaited question from Le Soir, which was on everyone's lips, was the alleged kiss in June between Juncker and Nigel Farage who was UKIP's leader at the time.
There have been many pictures in the media showing Juncker approaching Farage as if he is about to kiss him at the European Parliament during an emergency session to debate Brexit.
"I respect the man. He has a good sense of humor and is well-read," Juncker said before answering the question.
However, Juncker said that he did not kiss the former UKIP leader.
"That day, after Brexit, I told him 'I am stunned you are still here' and I told him something in his ear that was not a compliment. The photos gave the impression that I had kissed him," he said. "Was I to make a big deal out of it and say 'I was whispering in his ear' or just leave it? At my age, one leaves it."