'They murdered him': Hundreds of Canadians protest police killing of mentally ill black man (PHOTOS)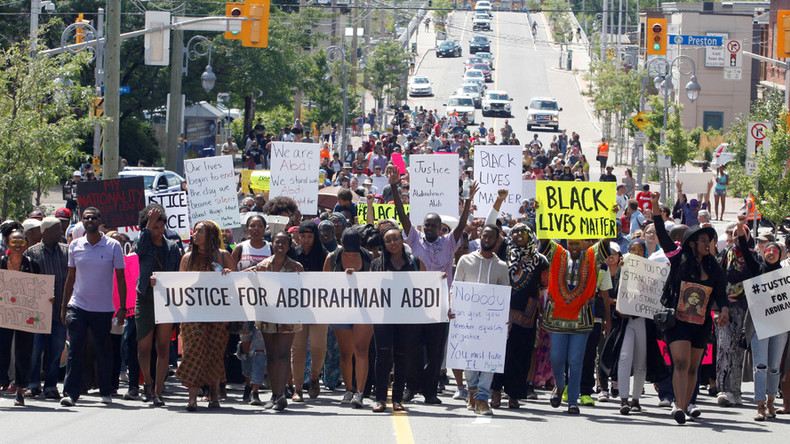 Over 500 people marched through Canada's capital on Saturday to protest the death of a mentally ill Somali-Canadian black man, who died during a confrontation with police.
Demonstrators marched through downtown Ottawa, making their way to police headquarters on Elgin Street in memory of Abdirahman Abda, 37, who died at the hands of police near his house following a disturbance call almost a week ago.
Protesters chanted: "Justice for Abdirahman" and "Black lives matter." Others were heard saying: "They murdered him! Enough is enough!"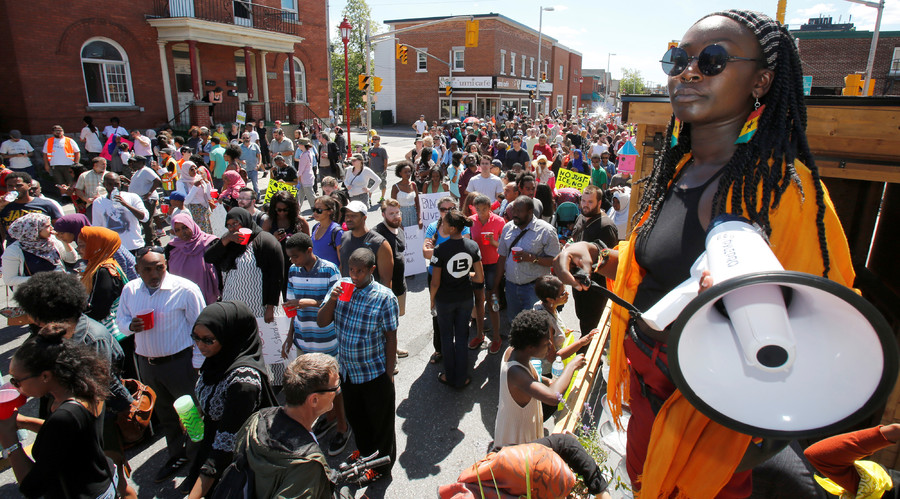 Activists demanded more transparency in the investigation into Abdi's death and also called for a separate analysis of how police treat minorities.
"We want to know what's going on, and we want the officers to have some form of cameras on their person at all times so we know exactly how they're dealing with situations like this," CTV Ottawa quoted march organizer Chi-chi Ayalogu-Okonkwo as saying.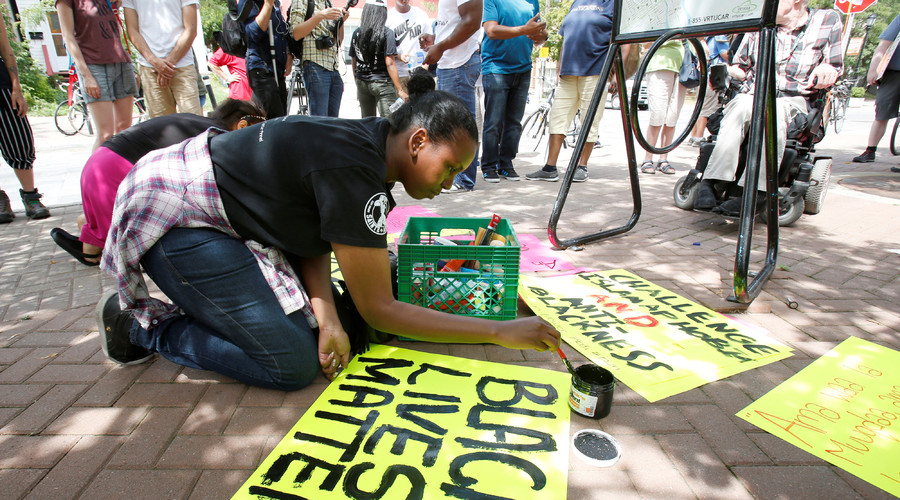 Demonstrators also called for the two officers involved in the incident to be removed from duty. "We want them to be taken off and suspended until the investigation is completed," said Wangui Kimari, another march organizer.
Ottawa Police Chief Charles Bordeleau told the media that both officers are still on the payroll. "One officer is on leave and the other officer is conducting investigative work right now," Bordeleau said.
Ottawa Police Central Div front desk services is temp. closed due to a protest. If urgent, please attend Huntmar or 10th line Stations.

— OPS Duty Inspector (@DutyInspector) July 30, 2016
Abdi's funeral was held on Friday attended by around 600 people, including Ottawa Mayor Jim Watson and Ontario cabinet minister Bob Chiarelli.
Watson and Chiarelli called for patience, as the incident is still being investigated by Ontario's Special Investigations Unit.
Abdi was reportedly beaten by Ottawa police while they were trying to arrest him, according to local media citing witnesses.
The protesters' chants resembled those of the US Black Lives Matter movement, which has an official chapter in Canada. The US has seen a wave of killings due to police brutality in recent years.
The event was peaceful, with no violence or arrests made. Abdi's family gave brief speeches at the march, but asked not to be interviewed.