Office workers need an hour of physical exercise daily to offset risk of death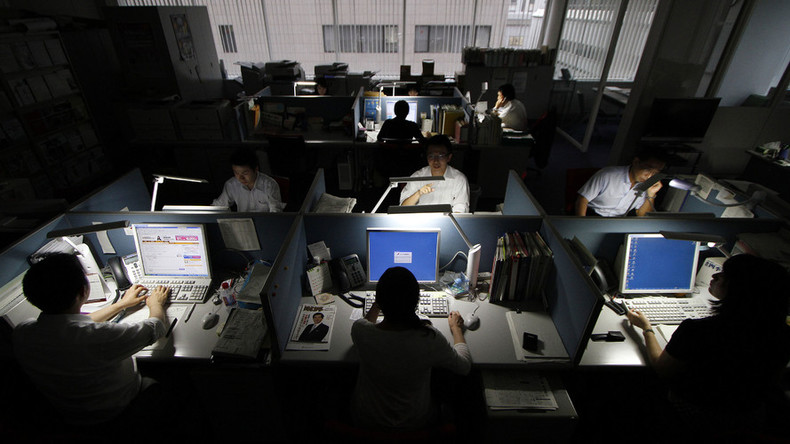 Office workers who sit at their desks for eight hours a day need to ensure they engage in physical activity such as cycling or walking quickly for at least an hour a day if they want to offset an increased risk of premature death.
The findings were published in The Lancet journal, with the authors saying that little is being done to tackle the issue of lack of activity amongst sections of the population. A lack of exercise can increase the risk of heart disease, diabetes, and some cancers, which are responsible for more than five million deaths a year.
"There has been a lot of concern about the health risks associated with today's more sedentary lifestyles," the lead author, Professor Ulf Ekelund of Cambridge University and the Norwegian School of Sports Sciences, said in a press release from The Lancet.
However, Ekelund says that people do not need to join expensive gyms, and minor changes to their lifestyle can help ensure they are physically active.
"Our message is a positive one: it is possible to reduce – or even eliminate – these risks if we are active enough, even without having to take up sports or go to the gym."
The researchers looked at data from over one million people from 16 separate studies. The team wanted to look at how much physical activity would be needed in order to eliminate the association between sitting for a long time and increased risk of death.
The researchers found that people who sat at a desk for eight hours but were physically active had a much lower risk of death, even compared to people who sat for less time but did not get any exercise.
Those who managed to do at least one hour of physical activity each day eliminate the risk of death from being inactive for a prolonged period of time. While Ekelund accepts that it is difficult for people to get the physical exercise they need, he stressed the importance of making sure that at least they did something, no matter how small.
"We cannot stress enough the importance of getting exercise, whether it's getting out for a walk at lunchtime, going for a run in the morning, or cycling to work. An hour of physical activity per day is the ideal, but if this is unmanageable, then at least doing some exercise each day can help reduce the risk," he said.
The hour a day recommended by the research team is significantly more than WHO guidelines, which state that adults should do at least 150 minutes of physical activity per week. The researchers also stated that only about a quarter of those surveyed in the study undertook the required amount of physical exercise.
Dr. Pam Das, Senior Executive Editor, and Dr. Richard Horton, Editor-in-chief of The Lancet, have called on governments to "get serious" about introducing adequate funding for public health departments and research, among other things.
Statistics show physical inactivity around the globe costs the world economy over US$67.5 billion per year in health care costs and lost productivity.
"There is extensive evidence about the need for action to improve physical activity, what actions are most promising, and who needs to be involved. But capacity and funding remains insufficient because physical activity is not taken seriously enough to rise to the top of the funding priorities," the pair stated.